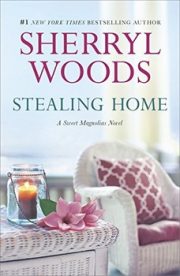 Stealing Home
by Sherryl Woods
BARGAIN
Maddie Townsend might live in a town called Serenity but there's been nothing calm or peaceful about her life since her marriage broke up. This stay-at-home mom has no job skills, an out-of-control sixteen-year-old son, a talkative fourteen-year-old who's suddenly gone silent, a six-year-old daughter whose heart is broken, an ex-husband whose younger girlfriend is expecting their baby and two best friends who think she's somehow qualified to help them open a fitness spa for women.
But if Maddie is a tad on edge with all that on her plate, it's nothing compared to the chaos that ensues when she discovers that her son's baseball coach has feelings for her and the whole town disapproves…
---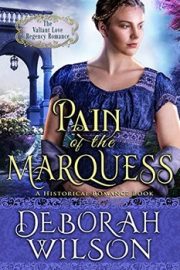 Pain of The Marquess
by Deborah Wilson
BARGAIN
Upon her father's death, Lady Irene Hiller inherited more than the duke's wealth. She inherited his power. She inherited his corrupt businesses. And… she inherited more than a few of his enemies. As her world begins to unravel, there is only one man she'll allow to put it back together. The man she's always loved. The Marquess of Fawley.
Clive has never understood Irene's obsession with him. He's a criminal. One of the wild Lost Lords. While many of the women in society admire him for his title as the Marquess of Fawley, Irene who manages to not only see inside his soul, but touch it in the most intimate way. But … that doesn't mean he has any intention of giving into the woman's wishes for love and happiness…
---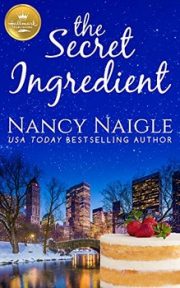 The Secret Ingredient
by Nancy Naigle
BARGAIN
Years ago, Kelly McIntyre and Andrew York were engaged and dreaming of opening a restaurant together. Then he chose an opportunity to study in Paris over the small-town life they'd planned, and their romance came to a bittersweet end.
But Kelly's doing fine. She's not only the owner of a potbellied pig named Gray, but also of her own bakery. Business is good—so good that she's invited to compete in a Valentine's Day bake-off. As she prepares for the contest, she tries not to get distracted by Andrew's visit to town. When Andrew sees Kelly, it stirs up his old feelings. Little does he know that soon, in New York, he'll compete against her in the bake-off…and they'll both realize how much their past is a part of them still.
---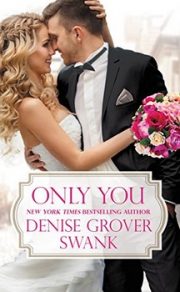 Only You
by Denise Grover Swank
BARGAIN
Romance isn't an option for Holly Greenwood. With her wedding planner career on the line she needs to stay focused, and that means pleasing her demanding boss, not getting distracted by her mind-alteringly hot neighbor…
Ex-Marine Kevin Vandemeer craves normalcy. Instead, he has a broken-down old house in need of a match and some gasoline, a meddling family, and the uncanny ability to attract the world's craziest women. At least that last one he can fix: he and his buddies have made a pact to swear off women, and this includes his sweetly sexy new neighbor.  After one hot night that looks a whole lot like a disaster in the light of day, Kevin and Holly are about to learn that true love doesn't play by the rules…
---
I'll Always Love You
by Lorhainne Eckhart
BARGAIN
It was the hottest night of sex he'd ever had. Jeremy Friessen had heard the whispers that he was just like his father, with his looks, his bad ass attitude, and arrogance, and he'd never forget the night he'd spent with his best friends sister until she up and left, one day just three years ago.
But now she's back, he'd caught a glimpse of her at the traffic light again at the store and when her eyes connected with his, she pretended as if she didn't know him, and that made him angry until he realized she couldn't hide her reaction to him…
---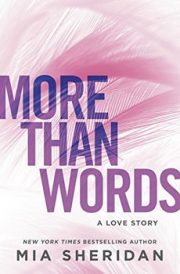 More Than Words: A Love Story
by Mia Sheridan
BARGAIN
The moment she met Callen Hayes, eleven-year-old Jessica Creswell knew he was a broken prince. Her prince. They became each other's refuge, a safe and magical place far from their troubled lives. Until the day Callen kissed her–Jessica's first real, dreamy kiss–and then disappeared from her life without a word.
Years later, everyone knows who Callen Hayes is. Famous composer. Infamous bad boy. What no one knows is that Callen's music is now locked deep inside, trapped behind his own inner demons. It's only when he withdraws to France to drink his way through the darkness that Callen stumbles into the one person who makes the music return. Jessica. His Jessie. And she still tastes of fresh, sweet innocence . . . even as she sets his blood on fire.
---
Sweet Billionaires Collection
by Lorana Hoopes
BARGAIN
Four full-length novels and over 900 pages of strong bachelor Billionaires who will touch your heart and renew your faith in God!
The Billionaire's Secret – From bad boy to baby daddy? Billionaire Maxwell Banks enjoyed his single life. Until a blast from his past shows up on his doorstep with a daughter he didn't know he had. Now he is forced to become a father overnight and he has no idea what he's doing. Can he change to become the role model she needs? Also includes: A Brush with a Billionaire, The Billionaire's Christmas Miracle, The Billionaire's Cowboy Groom. CLICK above to read the full descriptions!
---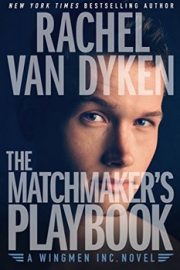 The Matchmaker's Playbook
by Rachel Van Dyken
BARGAIN
After a career-ending accident, former NFL recruit Ian Hunter is back on campus—and he's ready to get his new game on. As one of the masterminds behind Wingmen, Inc., a successful and secretive word-of-mouth dating service, he's putting his extensive skills with women to work for the lovelorn. But when Blake Olson requests the services of Wingmen, Inc., Ian may have landed his most hopeless client yet.
From her frumpy athletic gear to her unfortunate choice of footwear, Blake is going to need a miracle if she wants to land her crush. At least with a professional matchmaker by her side she has a fighting chance…
---
Wind Chime Wedding
by Sophie Moss
BARGAIN
Second grade teacher Becca Haddaway is weeks away from walking down the aisle with her high school sweetheart when she learns that the Heron Island Elementary School is about to be shut down. Knowing that losing the school would devastate the fragile island community, Becca pushes aside her wedding plans to save it. But the one man who can help her is determined to make her question every decision she has ever made–including the man she's about to marry.
Former Navy SEAL Colin Foley is finally starting to feel whole again after losing his leg on a career-ending deployment in Afghanistan. After struggling for months to figure out what to do with his post-military life, he's found a new mission…
---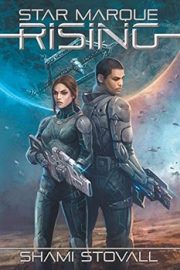 Star Marque Rising
by Shami Stovall
BARGAIN
Clevon Demarco, a genetically modified human, has a cocksure attitude and the combat skills to back it up. With his unparalleled skills, he makes his living as a ruthless gunrunner on a shady space station near the edges of the quadrant. Stronger, faster, and wittier than most sad sacks, no one even comes close to Demarco's abilities—until he crosses paths with the captain of the notorious Star Marque, Endellion Voight.
Captain Voight arrests Demarco and offers him a choice: go to a prison planet for his crimes, or join her starship, the Star Marque, working as mercenaries for the superhumans. But she didn't pick him at random…