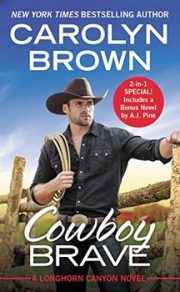 Cowboy Brave
by Carolyn Brown
BARGAIN
This city girl's about to get a dose of cowboy charm. Emily Baker doesn't rough it — anymore. Born and raised on a farm, she's worked hard to distance herself from that life, thank you very much. But when the seniors at the nursing home where she works beg for a ranch retreat, she caves and heads up to the Longhorn Canyon spread. With one glance at the sexy cowboy who opens the door, she's suddenly thinking a week with him might not be so bad after all.
Justin Maguire doesn't quite know what to do with the gorgeous woman who shows up on his doorstep. She's all curves and confidence-even after stepping in a cow pile. Too bad she's determined not to fall for a cowboy. But with the help of five nosy, matchmaking seniors, he might just convince her he's worth the risk.
---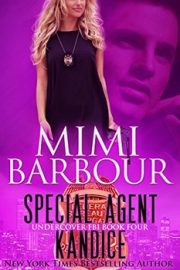 Special Agent Kandice
by Mimi Barbour
BARGAIN
Powerful, thrilling and character-driven, this romantic suspense is a real page-turner.
Special Agent indeed, Kandice Warner is everyone's best friend. Talk about a Barbie doll! This female might have the same pretty-girl looks but even though she has a tender heart, she also has the resilience needed for a very successful FBI Hostage Negotiator. Feelings of inadequacy constantly force her to prove that she's tough, and she demonstrates her courage when dealing with a murderous bank robber, a desperate jumper, being stalked, kidnapped and beaten. But her tender heart can get her in trouble and she needs to grow a thicker skin. Almost impossible when her obstinate new boss, for reasons of his own, interferes in everything she does.
---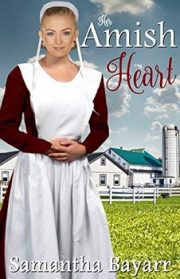 Amish Romance: Her Amish Heart
by Samantha Bayarr
BARGAIN
Domestically-challenged Englisher, Sophie Webber's summer job is to be a nanny and housekeeper for widowed Simon Yoder; what could possibly go wrong?
Sophie has been given an ultimatum by her father that she take a summer job as a nanny and housekeeper for an Amish widower before she can receive her trust fund. With no domestic skills or experience with children, Sophie feels like a failure at her new job, but she's determined to see the summer thought no matter what. Will her summer go the way she planned or will Simon have other plans for her?
---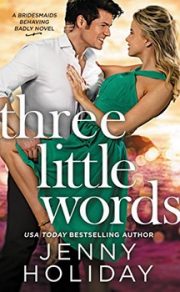 Three Little Words
by Jenny Holiday
BARGAIN
Gia Gallo is officially in bridesmaid hell. Stranded in New York with her best friend's wedding dress, Gia has six days to make it to Florida in time for the ceremony. And oh-so-charming best man Bennett Buchanan has taken the last available rental car. Looks like she's in for one long road trip with the sexiest – and most irritating – Southern gentleman she's ever met…
Bennett's pretty sure that if there was ever a woman to break his "no flings" rule, Gia would be it. Sure, she's stubborn. She's also funny, smart, and the attraction between them is getting hotter with every state line they cross. While Bennett doesn't do casual, Gia doesn't do "relationships." But if they break the rules, this unlikely pair might discover that their impromptu road trip could turn out to be the best ride of their lives.
---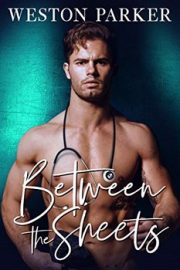 Between The Sheets
by Weston Parker
BARGAIN
Love is not a luxury a man like me can afford. I save lives for a living, and there's no room for distractions. Until she is assigned to be my resident. The girl is everything I want and exactly what I can't have. The hospital won't allow it, and she's far too young for me. But I need her more than I need my next breath. And luckily enough, she feels the same.
In exchange for paying off some of her medical debts, she makes me an offer I can't refuse: Herself. It could cost me my career. Hers too. I don't care. I get what I want, and she's no exception. We just have to keep our love affair between the sheets.
---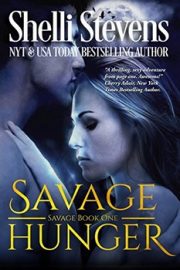 Savage Hunger
by Shelli Stevens
BARGAIN
When Sienna Peters breaks into a secret laboratory at the institute where she works, she doesn't expect to end the night cuffed in the back of a van with her brother's friend glaring at her and claiming he works for a government agency that investigates preternatural cases. And that's not even the biggest surprise she's in for…
Rescuing almost feral shifters from a secret lab is a complicated, dangerous mission, but federal agent Warrick Donovan doesn't shy away from danger. Finding Sienna sneaking around the lab is a complication he didn't plan for though. Years ago, for her own safety and his, he pushed her away before anything could happen between them. But now, keeping her close seems the safest bet, at least until he figures out how much she knows and how involved in the lab she is.
---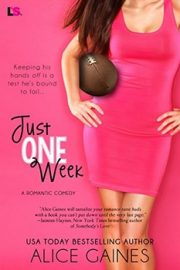 Just One Week
by Alice Gaines
BARGAIN
Her brother's best friend is not only the hottest man Michelle Dennis has ever seen, he's the one man she hopes to avoid after leaving town eight years ago. Of course he's the one waiting at the airport. Worse, he made sure they're staying in the same house.
Pro football player Alex Stafford is expecting to pick up his friend's kid sister, not a full-fledged bombshell. He was planning to apologize for their past, but the feelings he had years ago come roaring back…and this time, there's no denying them. Keeping his hands off is a test he's bound to fail—especially when they're stuck in close quarters. But falling in love with Michelle, living in her world, isn't an option for a guy like him. And remembering that will save them both a lot of heartache…
---
Keeping Secrets
by Deborah Hawkins
BARGAIN
For thirty years, Brendan Murphy has done the impossible. He has kept his client, Professor Edward Wynne Carter, III, alive on Virginia's Death Row. Brendan knows Ed did not kill his pregnant wife in the fall of 1983. But now Ed's execution date has been set.
Thirty years ago, when she was just out of law school, McKenzie Fitzgerald, interviewed Ed's alibi witness. But she forgot to turn on the tape recorder. The next day, the witness vanished. McKenzie convinced herself that Ed was guilty and lied to cover up her mistake. Now a nationally renowned civil litigator and former Harvard law professor, McKenzie is a nominee to be a justice on the United States Supreme Court. But when she learns that Ed's execution date has been set, McKenzie must choose between saving Ed's life and saving her career. Will Brendan uncover McKenzie's secret in time to stop Ed's execution?