All I Ever Wanted
by Kristan Higgins
BARGAIN
For Callie Grey, coming to grips with her age means facing the fact that her boyfriend-slash-boss is way overdue with a marriage proposal. And that she's way off track, because Mark has suddenly announced his engagement to the company's new Miss Perfect. If that isn't bad enough, her mom decides to throw her a Big Three-Oh birthday bash…in the family funeral home.
Bad goes to worse when Callie stirs up a relationship with the town's single—yet not so warm and fuzzy—veterinarian, in order to flag Mark's attention. So what if Ian McFarland is more comfortable with animals? So what if he's formal, orderly and just a bit tense? Friendly, fun-loving and spontaneous Callie decides it's time for Ian to get a personality makeover. But, dang—if he doesn't shock the heck out of her, she might actually fall for Georgebury, Vermont's unlikeliest eligible bachelor…. #ad
---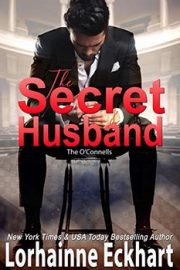 The Secret Husband
by Lorhainne Eckhart
BARGAIN
Small-town lawyer Karen O'Connell believes that all of her clients who have found themselves recklessly embroiled in scandal and trouble have done so foolishly because of love. She has heard far too many times that the heart wants what it wants. But one night, Karen receives a call from Jack Curtis, her vengeful ex-husband, whom she's never told anyone in her family about. He's found himself in a world of trouble, arrested and in jail, charged with murder. He says he's innocent, and he needs her help.
Her first response is to say no, but Karen knows Jack isn't the kind of guy to ask for help from anyone, especially not from the ex-wife he openly despises and hasn't seen in years. She knows there must be more to the story–but what she doesn't know is that the mysterious circumstances surrounding the murder could be the reason their hasty marriage ended so badly. #ad
---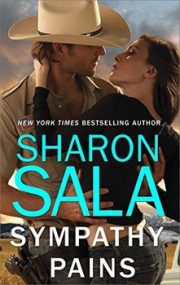 SYMPATHY PAINS
by Sharon Sala
BARGAIN
From New York Times bestselling author Sharon Sala, a reader-favorite novella of romance,second chances and a love that conquers the odds
Marilee Cash waits tables at an anything-but-glamorous truck stop near Amarillo, Texas,and for six months she's gradually been falling for one of her regular customers, JustinWheeler. Not that she'd ever let him know. Although he's kind and charming, he barelyknows her. So when a blizzard strands Justin at the diner, Marilee feels as if she must bedreaming when their pleasant evening becomes a night of passion. But the next morning,Justin is gone—no note, no explanation, no apology. #ad
---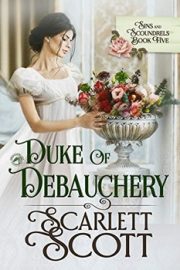 Duke of Debauchery
by Scarlett Scott
BARGAIN
The Duke of Montrose has perfected the art of being a scoundrel. Mistresses? He's had an endless procession of them. Gin-soaked nights? He's experienced more than he can count. He'll do anything to distract himself from the demons of his past. Until the day his devil-may-care ways leave his best friend gravely injured. Now, he's determined to make amends at any cost. Fortunately, he knows just where to begin.
The Honorable Miss Hattie Lethbridge is quite happy being a wallflower, thank you very much. She would far prefer to spend an evening curled up with her cat than whirling about a ballroom. When her brother's scapegrace friend, the Duke of Montrose, proposes they marry, she is equally determined to refuse his suit. #ad
---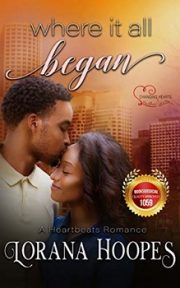 Where It All Began
by Lorana Hoopes
BARGAIN
Sandra Baker thought her life was on the perfect track until she ended up pregnant. Her boyfriend, not wanting the baby, pushes her to have an abortion and though she doesn't want one, she realizes she cannot support a baby alone.
After the procedure, Sandra's life falls apart as the guilt creeps in. She turns to alcohol, her relationship ends, and she struggles to find meaning in her life. When she meets Henry Dobbs, a strong Christian man, she begins to wonder if his God would accept her.
Will she tell Henry her darkest secret? And will she ever be able to forgive herself and find healing? Find out in this emotional love story. #ad
---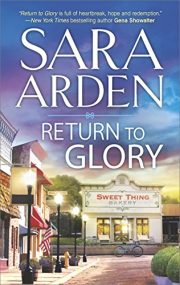 Return to Glory
by Sara Arden
BARGAIN
In Glory, Kansas, the best bakery in three counties not only brings together ingredients for sweet treats, but is the place where—through the powerful mix of friendship, community and a well-stocked kitchen—a wounded hero can forge a forever kind of love.
Back in the hometown he left behind five years ago, Jack McConnell has returned battle-scarred and feeling like half a man. But Betsy Lewis only sees the hero who once saved her life and set her heart on fire. Now she's burning to save him in return. She'll use every trick she's got up her sleeve, from her generous natural assets to her talent for baking, to coax Jack out from the bottom of his whiskey bottle… #ad
---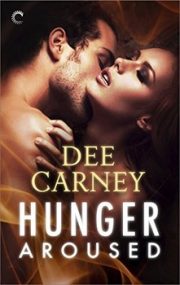 Hunger Aroused
by Dee Carney
BARGAIN
Jasmine is sick in bed when a sexy stranger breaks in and reveals she's suffering an irreversible case of vampirism. And because her turning wasn't approved by the Council, he must kill her once the transition is complete. In the meantime, the executioner offers to ease her torment with chocolate, hot peppers or sexual release. Fortunately for them both, Jasmine's kitchen is bare…
Corin's honor demands he do his duty, but he cannot execute the lovely woman while any part of her humanity remains. He must also find—and kill—her sire. Jasmine denies ever having contact with a vampire, causing Corin to question the justice of his orders. Sensing his hesitation, the Council dispatches another executioner, forcing the pair to make a run for it. #ad
---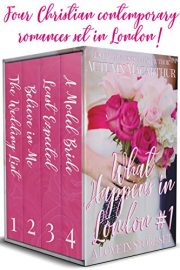 What Happens in London #1
by Autumn Macarthur
BARGAIN
Brand New Release from Autumn Macarthur.
Escape to Europe and fall in love with these uplifting and inspirational contemporary Christian romances set in London, Paris, and Edinburgh!
Books 1, 2, 2.5, and 3 in the Love in Store series of sweet and clean romances celebrating love and faith, together for the first time in this collection! Each stand-alone story follows a different couple connected to a grand old London department store through the trials and joys of falling in love, to their commitment to a happy-ever-after. #ad