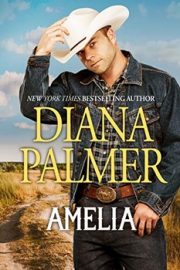 Amelia
by Diana Palmer
BARGAIN
Amelia Howard cherishes her desert country. The dazzling colors, white heat, and rough sensuality of west Texas stir her very soul. But there's a serpent in her paradise: King Culhane. A towering sunburned cowboy with silver eyes that miss nothing, he's a man she's come to despise—no matter how much she had worshiped him when she was younger.
As her father pushes her to secure a marriage proposal from King's mild-mannered brother in order to marry into the Culhane dynasty, Amelia assumes the mask of a demure young lady, always correct and obedient. It's a posture that King holds in contempt. Yet when she reveals the true force of her feelings, she unleashes a smoldering passion that cannot be denied. And everything—propriety, filial duty, even love—will be scorched in the wake of such all-consuming desire.
---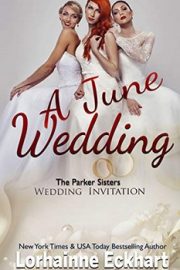 A June Wedding
by Lorhainne Eckhart
BARGAIN
Dearly beloved, we are gathered in this month of June for a wedding at the Parker family ranch. Or so the invitation says! Little does the family know that not just one Parker sister is getting married, but three.
After several failed attempts at their on-again, off-again romance, Justin and Mason face a contract that could end their relationship for good. Meanwhile, Naomi and Cameron's need to overcome more than a few hurdles, including the question of whether her father will ever accept a man who has wealth and position but never his approval. Finally, there's Scarlett and retired racecar driver Emmett, a single father with a son who's determined to see that Scarlett and his father never say "I do."
---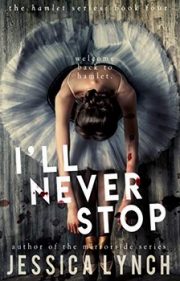 I'll Never Stop
by Jessica Lynch
BARGAIN
It was supposed to be one date. After connecting on an online dating site, Grace Delaney agreed to go out with Thomas for coffee—and that was the beginning of the end for both of them.
Thomas Mathers is rich, he's smart, he's arrogant, and, after one evening, he's decided that the lovely ballerina is meant to be his. And because he almost immediately proves how obsessed he is by breaking into her home and leaving threatening gifts, she knows he's not about to take Grace's no for an answer. No matter where she goes, he finds her. In the seven months since they met, she's been forced to move twice, change her number three times. The cops won't help her. Her friends think she's just being stubborn.
---
Remember Tuesday Morning
by Karen Kingsbury
BARGAIN
A wall went up around Alex Brady's heart when his father, a New York firefighter, died in the Twin Towers. Turning his back on the only woman he ever loved, Alex shut out all the people who cared about him to concentrate on fighting crime. He and his trusty K9 partner, Bo, are determined to eliminate evil in the world and prevent tragedies like 9-11.
Then the worst fire season in California's history erupts, and Alex faces the ultimate challenge to protect the community he serves. An environmental terrorist group is targeting the plush Oak Canyon Estates. At the risk of losing his job, and his soul, Alex is determined to infiltrate the group and put an end to their corruption…
---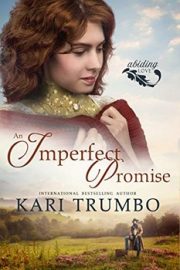 An Imperfect Promise
by Kari Trumbo
BARGAIN
Gini is devoted to the orphans in her charge. Period. This leaves no room for the handsome cowboy who moved in next door. No matter that he speaks to her lonely heart. Though he steps in and helps when no one else will, she must remain steadfast.
On the run from his past, Jon comes to Nebraska to help his sister and lick a few wounds. Hard to do when fighting rustlers trying to take over his land. Not to mention battling his growing feelings for the woman next door. With mounting danger and new obstacles at every turn, has his heart led him to the wrong woman once again?
---
Shadow Informant
by Edita A. Petrick
BARGAIN
When a young lawyer on his way to work is found dead in a parking lot with bizarre tattoos on his face, Detective Sergeant Caroline Osych is called in to solve the case. She is going through a rough patch – the roughest in her life. Fighting to regain visitation rights to her children from a manipulative ex, she's broke, and her love life is nonexistent.
Now, faced with the strangest case she's ever had to work, her professional and private lives are about to collide. The FBI are convinced that they know who the perpetrators are – and who they are going to target next. But is there a more sinister – and extraordinary – explanation to the case?
---
The Ghost and the Christmas Spirit
by Bobbi Holmes & Anna J McIntyre
BARGAIN
It's once again Christmastime at Marlow House and the mediums of Beach Drive have all decided to stay in Frederickport for the holiday.
Surprises await for them when the true Spirit of Christmas comes for a visit.
Do you believe in Santa Claus?
---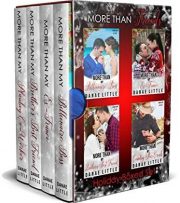 More Than Friends Sweet Romance Holiday Box Set
by Danae Little
BARGAIN
A collection of Clean & Wholesome sweet romances. Each book focuses on a more than friends romance.
Box Set includes books one through four: More Than My Billionaire Boss: A fake relationship, a magical island, and a kiss that seals the deal; More Than My Ex-Fiance: Two broken hearts, a fateful mishap,and a second chance; More Than My Brother's Best Friend: A floundering marketing expert, her brother's best friend, and the Christmas tree farm that brings them together; More Than My Country Star Crush: A famous country star, his long lost love-at-first-sight, and the little girl who reminds them Christmas miracles do exist