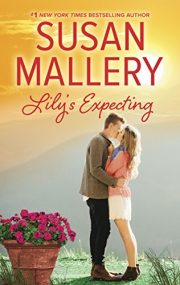 Lily's Expecting
by Susan Mallery
BARGAIN
Firefighter Jake Stone is hot for his best friend Lily, but one thing after another has kept him from staking his claim on the beautiful nurse. First she got engaged, then she was jilted, and now she's pregnant—via a sperm bank! She was so sure love had passed her by, she decided to have a baby on her own.
Before Lily's due date, Jake will have to woo her, win her, marry her, and convince her that he wants to be a dad to the baby she's carrying…and maybe a few more. Originally published in 2004 in Mothers by Design.
---
Fried Chicken and Gravy
by Sherri Schoenborn Murray
BARGAIN
Missy may have a knack for fixing cars, but she sure can't cook. Missy Stuart is humiliated when she burns dinner for the cute, yet outspoken new auto parts rep. But, when he suggests to her father that she should take cooking lessons from the old ladies down at his church, she wants to crawl under a car and die.
When she dutifully accompanies her father to church, she finds that she has more to learn than a bunch of recipes. This clean Christian romance is set in Ridgefield, Washington, in the late seventies, and is now available in AUDIO on Audible.
---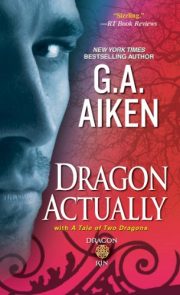 Dragon Actually
by G.A. Aiken
BARGAIN
It's not always easy being a female warrior with a nickname like Annwyl the Bloody. Men tend to either cower in fear–a lot–or else salute. It's true that Annwyl has a knack for decapitating legions of her ruthless brother's soldiers without pausing for breath. But just once it would be nice to be able to really talk to a man, the way she can talk to Fearghus the Destroyer.
Too bad that Fearghus is a dragon, of the large, scaly, and deadly type. With him, Annwyl feels safe–a far cry from the feelings aroused by the hard-bodied, arrogant knight Fearghus has arranged to help train her for battle. With her days spent fighting a man who fills her with fierce, heady desire, and her nights spent in the company of a magical creature who could smite a village just by exhaling, Annwyl is sure life couldn't get any stranger.
---
Far Away Home
by Susan Denning
BARGAIN
Read FAR AWAY HOME, a five-year Amazon bestseller in the historical and western categories, in its Enhanced Edition with a bonus introduction to the much-awaited sequel, EMBRACE THE WIND.
In post-Civil War New York City, sixteen-year-old Aislynn Denehy cannot find a job, she has no place to live and no family to help her. Some might think this is a problem; Aislynn believes it is an opportunity, but she has a lot to learn. Aislynn's journey begins in a New York City tenement and leads her across the frontier to a Utah mining camp where she must cope with the three very different men…
---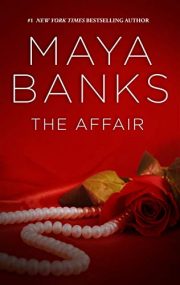 The Affair
by Maya Banks
BARGAIN
It was only supposed to be a vacation romance: passionate, exciting—and short-lived. But when Jewel Henley arrived for her first day of work at a new job, she realized her exotic lover was in fact Piers Anetakis, her boss. A boss who had a strict rule about not getting involved with his employees. Before she knew it, Jewel found herself without a job…and pregnant.
Now, five months later, Piers finally tracks down his one-night lover. Determined to explain the mistakes he made, he is confronted with an undeniable truth: Jewel is carrying his child. The only honorable solution is to marry. Yet is there more between them than lust? Because attentive as he is, Jewel knows he still doesn't trust her. And until he does, all they have…is an affair.
---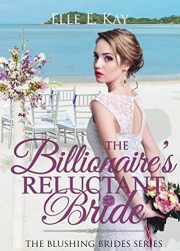 The Billionaire's Reluctant Bride
by Elle E. Kay
BARGAIN
When people see Zachary Williams they see a billionaire entrepreneur who changed the face of an entire industry, but without love and family it's worthless to him. Lonely and frustrated with the dating scene, he remembers an agreement he made with his best friend when they were in their teens. Zach searches out Addison and offers her the deal of a lifetime.
When Addison hears from her childhood friend and he invokes a pact they made as teenagers, she thinks he's joking. By the time she figures out how serious he is, she's committed herself to his crazy marriage scheme with no way to back out gracefully.
---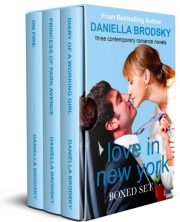 Love in New York Boxed Set
by Daniella Brodsky
BARGAIN
This boxed set contains three full-length romantic comedy novels from Amazon Bestselling Author, Daniella Brodsky, including Diary of a Working Girl, now the Netflix hit, BEAUTY & THE BRIEFCASE, starring Hilary Duff. No cliffhanger.
Diary of a Working Girl: "This is so much fun!" – #1 New York Times Bestseller, Nora Roberts Meet Lane Silverman, romance-o-holic. She's finally got Cosmo to buy an article pitch, but it just may be the death of her: before long her editor turns Lane's article into an impossible feat that tests every ridiculous romantic ideal she's ever held dear. Does true love even exist? CLICK above to read the full descriptions!
---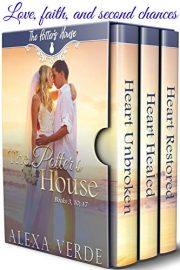 The Potter's House
by Alexa Verde
BARGAIN
Let these three faith-filled, heartwarming romances uplift and encourage you! These books are part of The Potter's House Books series, stories of love, hope, redemption, and second chances. They can also be read as stand alone. May these feel-good romances with a dollop of humor and a touch of suspense speak to your heart.
HEART UNBROKEN. Can a widowed sheriff and a former drug addict believe God has the power to mend all broken hearts, even crushed ones like theirs?
HEART HEALED. Can a scarred man running from his past and a beautiful star running from her future survive a murderous attack and find healing in God's loving arms?
HEART RESTORED. In a dangerous search for his missing daughter, will a reserved math teacher and a rough-around-the-edges ranch owner find love-or lose their lives?