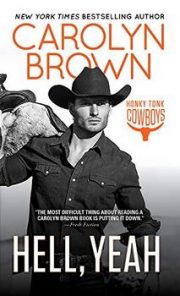 Hell, Yeah
by Carolyn Brown
BARGAIN
Cathy O'Dell never felt at home until she moved into the tiny apartment at the back of the Honky Tonk beer joint. Now she figures she's here to stay, loving every minute of the rowdy crowd, down-home juke box music, and constant pool tournaments— until in walks a ruggedly handsome oil man who tempts her to trade in the happiness she's found at the Honky Tonk for a life on the road with him.
Gorgeous and rich, Travis Henry travels the country unearthing oil wells and then moving on. Then the beautiful blue-eyed new owner of the Honky Tonk beer joint becomes his best friend and so much more. Sparks fly so bad they're likely to set fire to the beer joint, if the two don't go up in flames themselves first —but when his job is done in Texas, how is he ever going to hit the road without her? #ad
---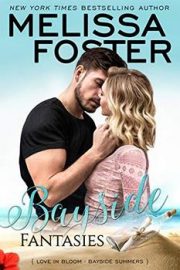 Bayside Fantasies
by Melissa Foster
BARGAIN
Tegan Fine has never had a plan—life, business, or otherwise. But she's always had goals—to laugh daily and to pay it forward as often as she is able, just like her favorite uncle always did. After inheriting her great-uncle's amphitheater, Tegan makes a risky move to a charming small town on Cape Cod to carry on her uncle's legacy and hopefully expand the business with her new friend, Harper.
Unfortunately, those goals aren't doing much to help her plan a business strategy for her new endeavor. With Harper counting on her and her uncle's legacy at stake, she swears off all distractions, determined to succeed. If only she could stop bumping into a certain arrogant, witty, and excruciatingly hot businessman who tweaks her nerves and invades her every thought. Including her late-night fantasies. #ad
---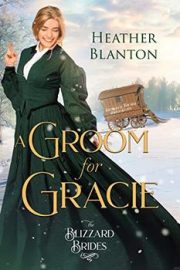 A Groom for Gracie
by Heather Blanton
BARGAIN
She's a Card Sharp, a Pickpocket, and an Actress… Well, Nobody's Perfect. If Gracie Erstwhile wants to keep her new homestead, she must do what every other widow in Last Chance, NE has done: choose a mail-order groom. At least having a man around to handle the farm will free her up to pursue her dream of opening a theater.
Noble McCain has lost his wife and his farm. And while he doesn't "need" a wife, his son needs a mother. He agrees to run Gracie's farm and believes he and the little actress have come to an acceptable arrangement—acceptable until Noble realizes Gracie has some pretty shady ways. #ad
---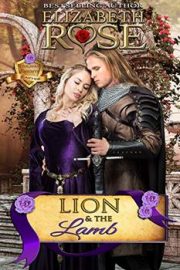 Lion and the Lamb: Easter
by Elizabeth Rose
BARGAIN
Widow, Rachael Bainard is furious to learn that her uncle has betroth her to their enemy, the Lion of the South. Her young son needs a father, but one bad marriage was enough and Rachael is in no hurry to wed again. If she can stall long enough, Lent will begin. By the laws of the church, no marriages are allowed between the start of Lent and Easter. This will give her the time she needs to figure out how to break the betrothal. However, things don't always go as planned, and it seems her luck has run out.
Lord Lionel Hatchet lost his wife years ago, and needs help raising his unruly teenage daughter. For the sake of alliances, he has agreed to marry Lady Rachael Bainard, but she is late arriving. The start of Lent is nearly upon them. With no meat, dairy, or coupling allowed during this six weeks of fasting, Lionel is sure he will go mad… #ad
---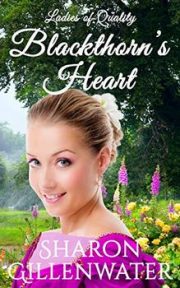 Blackthorn's Heart
by Sharon Gillenwater
BARGAIN
The Earl of Blackthorn… Wounded by his wife's infidelity, the handsome and wealthy widower has hardened his heart against any thought of love. He has no need of that fictitious emotion when he can have any woman he wants. Unless the woman he wants is his children's new governess.
Sloane Donovan… Hired by his sister during his absence, the young widow is unlike any governess he has ever met. Lovely, charming, and highly principled, she meets his gaze directly, speaks her mind, and has accomplished wonders with his children. Can this lady of quality–in every sense of the word–do the same for him? #ad
---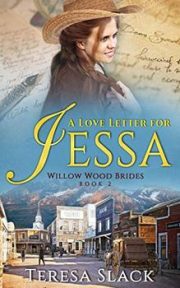 A Love Letter for Jessa
by Teresa Slack
BARGAIN
When Jessa Endicott began writing to her sick friend Ada's pen pal, she never dreamed she'd fall in love with the man on the other end of the letters. Rodney Hammersmith has fallen in love with the writer of the letters. The only problem is, the woman he thinks he loves is someone else.
When Rodney's job brings him to Willow Wood, he can't wait to meet his pen pal face to face. Jessa is equally anxious to meet Rodney, but he doesn't know she exists. He's here for Ada, the woman he thinks he's been writing to. Jessa never meant to mislead Rodney when she agreed to write the letters. Now she risks watching him fall in love with Ada, whose lies could destroy all their lives. #ad
---
The Three Kitties That Saved My Life
by Michael Meyer
BARGAIN
A Widower's True Story – "This is like drinking tea and honey on a cold day." When tragedy struck, I thought for sure that my own life was at an end. I was wrong. This is the true story of how two stray rescue cats and a woman named Kitty, whom I finally met after a wild ride of internet dating, brought love, romance, and laughter back into my life.
If you love reading feel-good memoirs, then don't miss THE THREE KITTIES THAT SAVED MY LIFE, where "Mike Meyer pens a tender tale of love, loss, and renewal. The depth of emotion is palpable…The Three Kitties will tug at readers' heartstrings, as they ride through the emotional highs and lows of Mike Meyer's remarkable story." -InD'tale Magazine #ad
---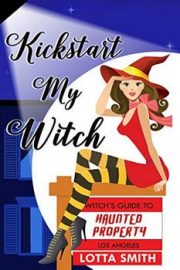 Kickstart My Witch
by Lotta Smith
BARGAIN
The accidental witch, a job interview to die for–or rather, a test that could get you killed. In book one of an exciting new paranormal series, author Lotta Smith introduces accidental witch Fiorentina "Fio" Valentine.
The Napa Valley native is desperately seeking work after yet another job goes up in smoke. Her third employer in a row has gone out of business, and her only lead for gainful employment comes from the familiar voice of her late great grandma Jane, who tells Fio in a dream to seek a position at one of the country's largest real estate agencies, Quest Realty. After a disastrous interview with prospective boss Jack Adams, and a run-in with the apparition of a former Quest employee, Fio is ready to give up the ghost and accept long-term unemployment, but Jack has other ideas… #ad