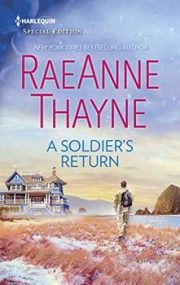 A Soldier's Return
by RaeAnne Thayne
BARGAIN
The Women of Brambleberry House are back!
Returning home to Cannon Beach and living in Brambleberry House, a place where good things seemed destined to happen, had brought Melissa Fielding and her young daughter such joy.
Perhaps it was no accident when the single mom "bumped" into Eli Sanderson, and discovered the handsome doctor was also back in town. The ex-soldier was still so captivating, but also more guarded. Was now the time to put old ghosts to rest? #ad
---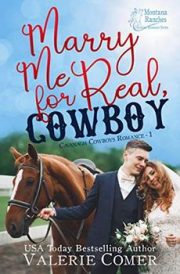 Marry Me for Real, Cowboy
by Valerie Comer
BARGAIN
Adam Cavanagh's rodeo championship tastes like dirt after a competitor's critical injury, but going home to his family's Montana ranch isn't much of an improvement. If not even the coveted trophy earns his stepfather's respect, what will it take?
Riley Dunning's quick thinking is all that's keeping her body, soul, and principles together, but demanding a kiss from a hunky cowboy to deter the weirdo following her might be taking things too far… especially when the cowboy comes up with a risky plan that might offer them both stability. If it doesn't backfire completely. Will a fake engagement give Adam and Riley the leg up they each need, or will the cost to their hearts be too high? Because neither believes the other will want to marry them… for real. #ad
---
MOLLY HACKER IS TOO PICKY!
by Lisette Brodey
BARGAIN
At thirty-two, newspaper reporter Molly Hacker vows to never attend another wedding until she has had her own. And that's a problem because Molly's younger sister, Hannah, is going to be married in one year. Armed with snark, wit, and fabulous good looks, "Picky Molly" embarks on a quest to find Mr. Right in her hometown, Swansea, an elegant bedroom community of NYC.
Things get complicated fast. In no time at all, Molly has four "men of interest" and the memories of a lost love to send her overanalytic, befuddled mind into serious overdrive. Determined not to let her "helpful" girlfriends help her right out of another relationship, Molly tries to keep mum on the state of her love life. Her BFF male coworker, Randy, becomes her closest confidant as he stumbles over romantic issues with his new Mr. Right, Kyle. #ad
---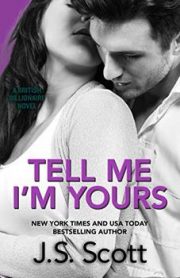 Tell Me I'm Yours
by J. S. Scott
BARGAIN
I really want to hate Dylan Lancaster. He hurt my best friend, and nearly destroyed her relationship with his identical twin brother. So, I decide that someone needs to rein him in so he doesn't try to demolish the couple completely before their wedding takes place. Unfortunately, the only woman who would try to take on that impossible task is…me.
It's only six weeks, right? Surely I can tolerate the womanizing, obnoxious jerk and keep him out of trouble so that no more of his scandals hit the media before his brother's wedding. I'm a public relations crisis manager. Squashing bad press is what I do, and I do it extremely well for my high profile clients. What I don't count on is actually starting to like the glimpses of the real Dylan I begin to see underneath all of his cynicism… #ad
---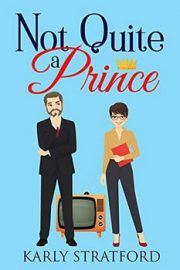 Not Quite a Prince
by Karly Stratford
BARGAIN
Mirror, mirror on the wall, Will this man be My downfall?
I have one last party to host at my aunt's bed and breakfast before I go back to my day job. Unfortunately, Fate has decided to twist the week into one of my television productions. 1-My rival, the Prince of Television, walks in. 2-His shorts leave his well-defined calf muscles horribly exposed. 3-Only one room in the place has reliable Wi-Fi. 4-He makes fun of the love triangle in my latest show. 5-I fight back with snide remarks about his train-wreck of a season finale.
Cue the laugh track. What? No. Of course I'm not flirting with him. He's the enemy… #ad
---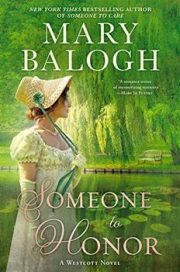 Someone to Honor
by Mary Balogh
BARGAIN
Abigail Westcott's dreams for her future were lost when her father died and she discovered her parents were not legally married. But now, six years later, she enjoys the independence a life without expectation provides a wealthy single woman. Indeed, she's grown confident enough to scold the careless servant chopping wood outside without his shirt on in the proximity of ladies.
But the man is not a servant. He is Gilbert Bennington, the lieutenant colonel and superior officer who has escorted her wounded brother, Harry, home from the wars with Napoleon. Gil has come to help his friend and junior officer recover, and he doesn't take lightly to being condescended to–secretly because of his own humble beginnings. #ad
---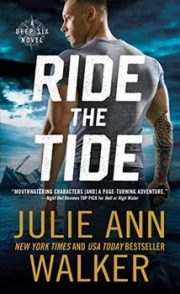 Ride the Tide
by Julie Ann Walker
BARGAIN
Former Navy SEAL Mason McCarthy is done being a fighting man. Now he and the Deep Six Salvage crew are working feverishly to find the wreck of the Santa Cristina and its legendary sunken treasure. Unfortunately for Mason's peace of mind, chatty, brilliant historian Alexandra Merriweather has joined the hunt and there's no avoiding her. Alex is exactly the kind of distraction Mason can't afford right now…or maybe ever.
When a murderous enemy from Mason's past threatens the Deep Six, he must rely on old instincts and the skills he honed from years of running black ops to make sure nothing touches Alexandra. But with their lives on the line and the adrenaline running high, it's inevitable that sparks will fly. #ad
---
Looking Glass Editor
by G G Collins
BARGAIN
While rescuing a kitten, mystery editor Taylor Browning witnesses a murder. Only she doesn't know it, but the murderer sees her. A dangerous game of cat and mouse commences in this second outing for the Taylor Browning Cozy Mysteries series. And no, Oscar, Taylor's Abyssinian cat is not amused by the new baby in his kingdom.
At the Santa Fe book publishing house, things aren't much better. A new metaphysical mystery writer, Crystal Visions, is exhibiting symptoms of an uncooperative nature. Taylor is sent to Sedona to encourage the author to fulfill her book contract. Once there, she is spellbound by the New Age community and its magical vortexes. #ad