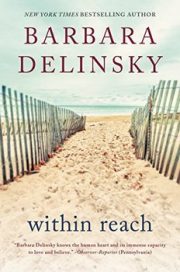 Within Reach
by Barbara Delinsky
BARGAIN
The charming vacation house on the coast of Maine was meant to be a heavenly retreat for Danica Lindsay and her husband Blake, a place where they could mend the wounds of a strained and tired marriage. Instead, she finds herself mostly there alone while Blake's political star is rapidly rising back in Boston. Were it not for the companionship of her new neighbor, gentle and caring Michael Buchanan, Danica would surely be overcome by loneliness and despair.
But a friendship that is cherished and uplifting is slowly transforming into something less innocent, more passionate—something that could easily be called "love." For the first time in her life, a chance for true happiness may be in Danica's reach. But how can she grab onto it when she remains another man's wife, bound by her vows to a marriage plagued by doubt and pain . . . and by secrets so shocking an entire nation will take notice? #ad
---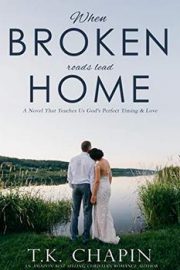 When Broken Roads Lead Home
by T.K. Chapin
BARGAIN
When Broken Roads Lead Home is an Inspirational Christian Romance that will encourage your faith, warm your heart, and remind you of the beauty and love of God. Join Natalie and Jacob in this faith-filled novel as they embark on the journey set before them. Christians will be delighted to see the gospel on full display in this gripping story of faith, hope, and love.
Natalie Townsend has a lifetime of scars. Broken hearts and shattered dreams are just a taste of what she's been through. Yet, she goes on hoping and praying one day God will show up. Reluctant she decides to move out to her grandfather's farm in Chattaroy to help take care of him. It's this one decision that changes her life forever. #ad
---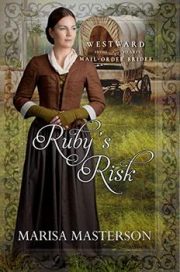 Ruby's Risk
by Marisa Masterson
BARGAIN
Under suspicion after his wife's murder, Elias Kline knows he has to leave Mills Bluff. Learning a lynch mob is planning to kill him, he slips away from town. Taking only his smithy tools and his young son, he chooses a new name—Ezra King. Heading west seems a fine way to start over, but he'll need a wife to raise his son and cook his meals. One sent by an agency shouldn't expect love, he decides.
A matchmaker convinces lonely Ruby Hastings to take a risk on Ezra King. After all, the man is helping fulfill the nation's destiny of settling the west. Reading the man's letter, Ruby aches for the widower's little boy and seizes on this chance to be a mama to him. After all, with a brother on the run from the law and a newly married sister, her siblings no longer need Ruby and this motherless boy does… #ad
---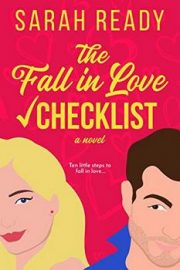 The Fall in Love Checklist
by Sarah Ready
BARGAIN
What if you made a list of all the crazy things you've dreamed of doing, but have been too scared to try…and then did them? Every. Last. One.
Unassuming, nice-girl Dany always does what people expect. She keeps her dreams hidden behind boring cardigans and beige upholstery. What does that get her? Dumped by her fiancé and kicked out of her home. Now Dany is going to do the unexpected – survive and thrive. She has a ten step checklist and a sexy new landlord determined to tag along. Suddenly, Dany's life goes from ordinary to wildly unexpected. But when everything turns upside down again, Dany has to decide, is number ten on her list the end or just the beginning? #ad
---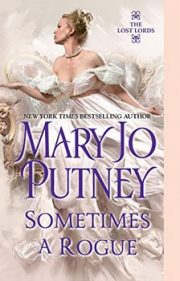 Sometimes a Rogue
by Mary Jo Putney
BARGAIN
Even the most proper young lady yearns for adventure. But when the very well-bred Miss Sarah Clarke-Townsend impulsively takes the place of her pregnant twin, it puts her own life at risk. If the kidnappers after her sister discover they've abducted Sarah instead, she will surely pay with her life . . .
Rob Carmichael survived his disastrous family by turning his back on his heritage and becoming a formidable Bow Street Runner with a talent for rescuing damsels in distress. But Sarah is one damsel who is equal to whatever comes. Whether racing across Ireland with her roguish rescuer or throwing herself into his arms, she challenges Rob at every turn. #ad
---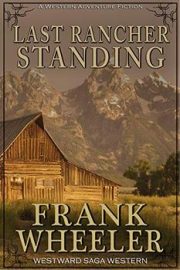 Last Rancher Standing
by Frank Wheeler
BARGAIN
Elroy Baxter led an easy life on his ranch, raising cattle with his brothers. Until he found a four-year-old girl stranded alone on his property. Someone wants her dead. Now Elroy and his brothers are targets too.
Max Lynch has a plan. He wants to see his name top the headlines of every newspaper in the state. The most wanted outlaw in all of Texas. And the easiest way to get there is to kill anyone who gets in his way–man, woman, or child. He won't let some kid be the only person to escape his clutches. Besides, she has something that he needs. If anyone else gets a hold of it, it could mean the end of him. Armed with his gang of twenty men, each with an evil streak to rival the Devil himself, he makes his way to Stagport. Only he never suspected that a few ranchers would put up such a fight. This is war, and Max insists on being the winner… #ad
---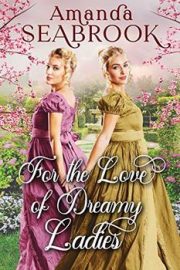 For the Love of Dreamy Ladies
by Amanda Seabrook
BARGAIN
Linnet and Arabella Wallace spent twenty years of their lives apart, without knowing they had a twin sister. However, fate meant for them to find each other again and realise that, despite their identical looks, their social worlds could not be more dramatically different. Linnet spent her life in a small village, enjoying the wide fields and unfettered sky.
On the other hand, Arabella has been raised as the only child of a duke and since his death, she has been cared for by an aloof distant relative. Linnet's world turns upside down though, when she meets Arabella's dashing guardian and her heart flutters for the first time. Could she really be falling this fast for a man as cold and detached as he seems? And what of Arabella, who has met somebody her guardian will only disapprove of? #ad
---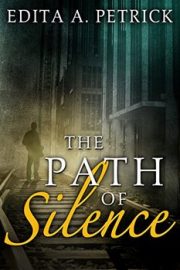 The Path of Silence
by Edita A. Petrick
BARGAIN
Meg Stanton rides a desk in the cold case unit with the Baltimore PD. Her day starts like any other—with parent-child struggles, a dire need for a large coffee and a partner who is a conglomerate of neuroses. However, it ends like no other day…with a dead body on the hood of her partner's car that signals a beginning of a strange journey of self-destructing bodies, all fitted with pacemakers that make them vulnerable to the killer.
Who is the mastermind behind all this? Who could callously use his fellow man as living guinea pigs for an ingenious new weapon? And how many people will have to die before Meg finds answers even as her life is unraveling around her…? #ad