Alaska Skies: An Anthology
by Debbie Macomber
BARGAIN
Brides for Brothers – Sawyer O'Halloran, the middle brother, isn't entirely in favor of this scheme. But he considers himself immune to any woman—even the lovely Abbey Sutherland. She's arriving in Alaska within days. However, there's a complication…or two. She hasn't told them she's arriving with kids!
The Marriage Risk – Like his brothers, Charles O'Halloran has a distrust of marriage in general—and of anyone related to Catherine Harmon Fletcher in particular. She's the woman who tried to destroy his parents' marriage. Too bad Lanni Caldwell, the only woman he's ever really fallen for, is Catherine's granddaughter… #ad
---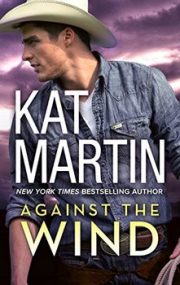 Against the Wind: A 2-in-1 Collection
by Kat Martin
BARGAIN
Sarah Allen burned a lot of bridges when she left her hometown. But when her husband is murdered and his associates come looking for her and her daughter, Sarah has only one place left to go—Wind Canyon, Wyoming. She runs right into Jackson Raines, the man she spurned in high school, who has now become a successful ranch owner. She expects anger from him, but instead she gets mercy.
Jackson knows Sarah and her daughter, Holly, are in trouble, and he can't turn them away. He's never forgotten the beautiful girl he could never have, and she's more alluring now than she ever was in high school. So when Sarah's enemies show up in Wind Canyon, Jackson is determined to protect Sarah and Holly, and prove to them that they've finally found their way home. #ad
---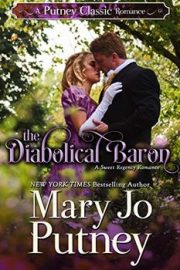 The Diabolical Baron
by Mary Jo Putney
BARGAIN
A Wicked Wager! Rich, handsome, and fashionably jaded, Jason, Lord Radford, knows he must marry to get an heir, but assumes that any well bred young lady will do, so he offers for Caroline Hanscombe, whose name he draws at random. Caroline is pressured by her family to accept, but shy and musical, she finds her new fiancé alarming. Will this be a match made in heaven or hell? Or might Caroline quietly find herself a man who suits her better…?
Mary Jo Putney's first book, The Diabolical Baron was a RITA finalist and won the Romantic Times awards for Best New Regency Novel and Best New Regency Author, and the NJRW Golden Leaf Award for best historical romance. #ad
---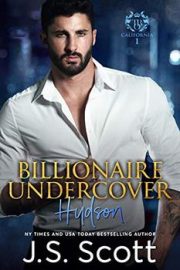 Billionaire Undercover ~ Hudson
by J. S. Scott
BARGAIN
Taylor – Just when I thought I was destined to die in a foreign country after being kidnapped while doing a geological exploration, a mysterious rescuer shows up just in time to save my life. Unfortunately, my liberator also happens to be the co-CEO of Montgomery Mining, my employer, and a billionaire with an attitude.
At first glance, Hudson Montgomery seems like the quintessential gorgeous billionaire with plenty of money to burn, and no concern for anyone but himself. The arrogant billionaire I could handle, but I wasn't quite so sure how to deal with the amazing guy I discovered once I looked past the superficial exterior. The one who stayed by my side as I recovered mentally and physically from the trauma of being a hostage… #ad
---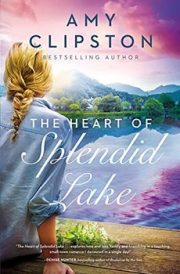 The Heart of Splendid Lake
by Amy Clipston
BARGAIN
Brianna is the youngest of the three Porter sisters and the only one who chose to stay in the small town of Splendid Lake, North Carolina. She followed in her father's footsteps and became an expert boat mechanic, helping him run their small resort with cabin rentals, a convenience store, and a marina.
When Brianna's father unexpectedly dies, Brianna is steeped in grief and guilt—and left alone to clean up the mess. To make matters worse, a constant stream of real estate brokers begin marching through her property, pressuring her to sell off the family land. In particular, she keeps running into handsome real estate mogul Scott Gibson. #ad
---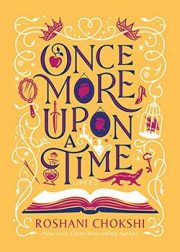 Once More Upon a Time
by Roshani Chokshi
BARGAIN
Imelda and Ambrose can't remember why they got married. A year and a day ago, Ambrose consulted a witch, trading their love to save Imelda's life – and they've been stuck with one another ever since. When that same witch pays them a visit on the day they lose their kingdom, she promises to make their deepest wishes come true in exchange for a simple favor and a short journey.
With nothing left to lose, Imelda and Ambrose agree. But, over the course of their enchanted road trip peppered with a delirious cloak, cannibals, and at least one honey badger, something magical happens…little by little, step by step, they regain what they had forgotten. #ad
---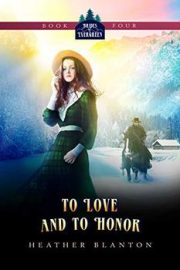 To Love and to Honor
by Heather Blanton
BARGAIN
Wounded cavalry soldier Joel Chapman is struggling to find his place in the world of able-bodied men when he meets pregnant and unwed Angela Fairbanks. The daughter of a cold and ruthless cattle baron, she is terrified her father will disown her when he learns of the baby.
Joel, touched by Angela's plight, brashly offers to pose as her husband for one day and then abandon her, thus restoring her honor.
But true love often only needs an instant to blossom… #ad
---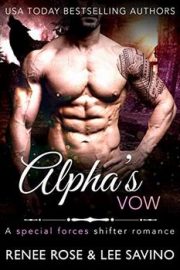 Alpha's Vow
by Renee Rose & Lee Savino
BARGAIN
THE SWEET HUMAN IS PREGNANT WITH MY PUP.
We had one night together, and then she ghosted. Apparently, I'm not part of her 'life plan'. Whatever, angel. Plans change. She thinks I'm a player. That I won't stick around. She thinks I don't have what it takes to be a dad. That I won't drop everything and dedicate my life to our baby. To our family. To her. She's wrong. She thinks I'll walk away?
She has no idea what she's in for. A wolf never walks away from his mate, and he always protects his pups. I may not have marked her yet, but I will. And if she tries to run, I'll follow. I'll hunt my beautiful female to the ends of the Earth. #ad