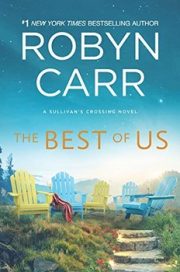 The Best of Us
by Robyn Carr
BARGAIN
Dr. Leigh Culver loves practicing medicine in Timberlake, Colorado. It is a much-needed change of pace from her stressful life in Chicago. The only drawback is she misses her aunt Helen, the woman who raised her. But it's time that Leigh has her independence, and she hopes the beauty of the Colorado wilderness will entice her aunt to visit often.
Helen Culver is an independent woman who lovingly raised her sister's orphaned child. Now, with Leigh grown, it's time for her to live life for herself. The retired teacher has become a successful mystery writer who loves to travel and intends to never experience winter again.
---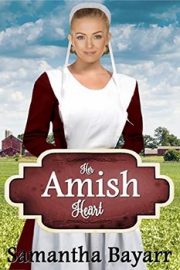 Amish Romance: Her Amish Heart
by Samantha Bayarr
BARGAIN
Domestically-challenged Englisher, Sophie Webber's summer job is to be a nanny and housekeeper for widowed Simon Yoder; what could possibly go wrong?
Sophie has been given an ultimatum by her father that she take a summer job as a nanny and housekeeper for an Amish widower before she can receive her trust fund. With no domestic skills or experience with children, Sophie feels like a failure at her new job, but she's determined to see the summer thought no matter what. Will her summer go the way she planned or will Simon have other plans for her?
---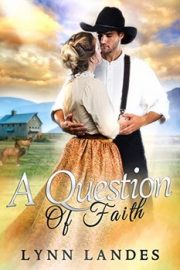 A Question of Faith
by Lynn Landes
BARGAIN
Abbilene loses her husband and her dreams in the fire that destroys the flour mill. The town is crying out for answers, and the Mayor promises justice. During the reading of her husband's will, Abbilene's faith is tested when she discovers the true depths of his betrayal. She will inherit the mill and the money to rebuild as long as she adopts his son, left in an orphanage in San Francisco. The son no one knew existed. How can she love a child her husband fathered with another woman?
Tucker Manning, childhood friend and Sheriff, is ordered by the Mayor to uncover the truth of the explosion that took eight lives. He doesn't believe the rumors around town about Abbilene and Sterling, her husband's cousin…
---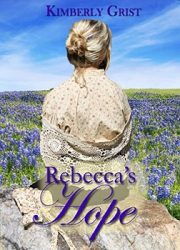 Rebecca's Hope
by Kimberly Grist
BARGAIN
Raised by her guardian and influenced by the mostly male population of Carrie Town Texas, Rebecca benefited from a forward-thinking, unorthodox education not typical for a young woman in the late Nineteenth century.
As an adult, she is armed with skills that most would covet, yet she lives in a boarding house, works as a waitress and struggles financially. Most single women in the area didn't stay single long. Most, but not her. The one man she had said yes to was dragging his feet. The townspeople all agree she is in need of a husband. Even the young girls in her Sunday School Class have taken action and writing an ad for the paper.
---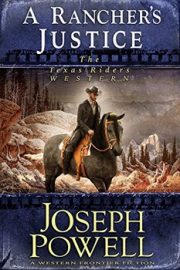 A Rancher's Justice
by Joseph Powell
BARGAIN
Noah Drake wants a simple life free from his burdensome past. Big Horn Ranch is the chance he's been waiting for. But… the outlaws who have been hunting him aren't ready to give up. Jake Ford is dangerous. He likes to shoot first and ask questions later. And he's vowed to take his revenge against Noah for killing his brother.
Noah did what was right. He defended his love. He saved an entire town from destruction. But… justice comes with a price. When the smoke cleared and evil lay dead, Mary was gone. She couldn't take it. So she left, taking her secrets with her. But Jake's back, and he's found her. The more pain he causes Mary, the happier he'll be…
---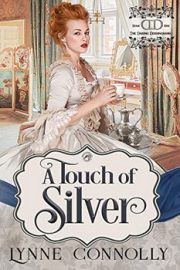 A Touch of Silver
by Lynne Connolly
BARGAIN
Gerald never wanted to be an earl. He was happier living in seclusion with his sisters. About to become betrothed to the icy daughter of a duke, he meets the vibrant, alluring Annie, who captivates his heart. But if he gives in to his desires, he risks a happy ending for his sisters, and they deserve their chances.
Annie Cathcart is a widow from the City of London. Finally, she has the chance to achieve her dream of creating silverware for the table. But she needs Gerald's old Shoreditch home to do it. Expecting a stuffy, pompous aristocrat, she meets a man who sees right through her practical exterior to the passionate woman beneath. She wants him more than the house, her respectability, and her independence.
---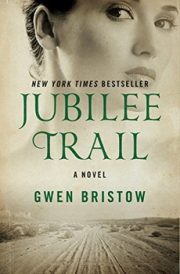 Jubilee Trail
by Gwen Bristow
BARGAIN
Charting the trail across the Great Plains from New York City to the Mexican Territory of California, a headstrong couple embarks on a new life in this classic work of historical fiction as unforgiving, moving, and unpredictable as the frontier.
A recent finishing school graduate, eighteen-year-old Garnet Cameron is desperate for direction. Too driven for the restrictive manners of the upper class, Garnet is naturally drawn to Oliver Hale, a frontier trader from the West. Unlike the men to whom she's accustomed, Oliver treats Garnet as an equal and respects her independence. His tales of adventure on the plains thrill her…
---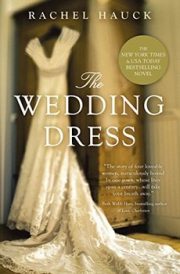 The Wedding Dress
by Rachel Hauck
BARGAIN
Charlotte owns a chic Birmingham bridal boutique. Dressing brides for their big day is her gift…and her passion. But with her own wedding day approaching, why can't she find the perfect dress…or feel certain she should marry Tim?
Then Charlotte discovers a vintage dress in a battered trunk at an estate sale. It looks brand-new—shimmering with pearls and satin, hand-stitched and timeless in its design. But where did it come from? Who wore it? Who welded the lock shut and tucked the dog tags in that little sachet? Who left it in the basement for a ten-year-old girl? And what about the mysterious man in the purple vest who insists the dress had been "redeemed."