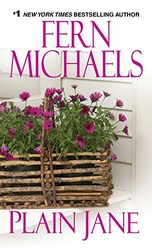 Plain Jane
by Fern Michaels
BARGAIN
Back in college, Jane Lewis would have given anything to be like homecoming queen Connie Bryan. Instead, she was just Plain Jane–overweight, frumpy, and painfully shy. That was then. Today, a lovely and confident Dr. Jane Lewis has a thriving psychotherapy practice, her own radio talk show, a beautiful old Louisiana mansion, and her affectionate, nutty dog, Olive, to keep her company. The only thing missing is someone to share her life.
Jane has never forgotten Michael Sorenson, the boy she'd admired from afar in college. Now, he's inspiring her to hope for a future together. #ad
---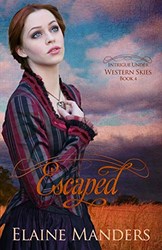 Escaped
by Elaine Manders
BARGAIN
Juliette Kendal has vowed to protect her siblings from their abusive step-father after their mother's death. When she finds him attacking her younger sister, Annie, she accidentally kills him. With no way to prove her innocence she fears her brothers and sister will be taken to an orphanage if she's arrested.
Jake Gresham is known as a fun-loving, careless cowboy, as good at finding trouble as he is roping cattle. So far, he's managed to avoid God and decent women. But on a scouting trip for his boss, he steps in a bear trap in a South Georgia swamp… #ad
---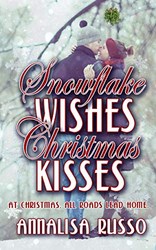 Snowflake Wishes, Christmas Kisses
by Annalisa Russo
BARGAIN
Cyber security expert Cord McQuada heads back home with his twelve-year-old niece in tow. Not that he ever planned to return after the community booted him out eight years ago. And since his only Christmas presents growing up came from the local gas station, he'd rather skip the town's over-the-top festivities.
Giselle Delacroix, heir to a French fashion line, decides to jump ship and open a children's clothing store. Busy and overworked, the last thing Giselle needs is a Christmas romance – even if the man involved is every woman's pièce de résistance. #ad
---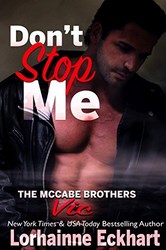 Don't Stop Me: Vic
by Lorhainne Eckhart
BARGAIN
The first book in the McCabe Brothers, a spinoff of the big family romance series The Friessens from New York Times & USA Today bestselling Author Lorhainne Eckhart.
Fifteen years ago, Vic McCabe was headed down a one-way road to destruction with the love of his life. But then the unthinkable happened, a mistake that changed their lives forever.
Successful billionaire contractor Vic McCabe is a man every woman wants, but he gives his heart to no one. However, one day a reporter shows up, asking questions about a past he's buried, a mistake he made fifteen years ago that could destroy his future and that of the woman he's tried to forget. #ad
---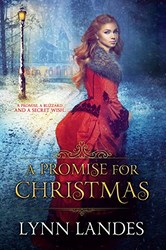 A Promise for Christmas
by Lynn Landes
BARGAIN
A Promise, A Blizzard, and a Secret Wish. Aiylin Miller is content working for her father in his workshop and secretly composing her music, but the Lord has other plans.
Sebastian Becker is visiting his mother for Christmas with his six-year-old daughter. He promised her a magical holiday, but he has no idea that the blizzard is blowing in more than snow. Six-year-old Tinley has a plan. With some help from her Grandmother and a magical lantern all her wishes are about to come true. #ad
---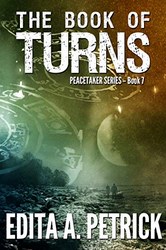 The Book of Turns
by Edita A. Petrick
BARGAIN
Cold cases start to warm up as an ancient artifact comes out to wreck the global balance. Two cold cases. A series of phenomenal events. A race against time.
After two years, there has been a long-running account of strange events on the news headlines: rivers altering their courses, campsites shifting locations – to phantom inheritances and severed limbs reattached to war veteran's bodies. Carter and Stella's long earned holiday is cut short with the appearance of a mutual friend and F.B.I Special Agent Saunders. #ad
---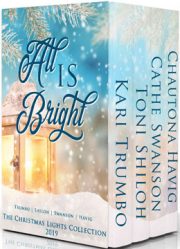 All Is Bright Collection
by Multiple Authors
BARGAIN
Four of your favorite contemporary romance authors join festive forces to bring you the fourth-annual Christmas Lights Collection.
Kari Trumbo – Merry and Dashing
Toni Shiloh – I'll Be Home
Cathe Swanson – Season of Change
Chautona Havig – The 12 Dates of Christmas #ad
---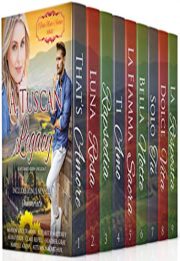 A Tuscan Legacy Complete Collection
by Multiple Authors
BARGAIN
Family, faith, forgiveness… and love. Enjoy a summer journey to Italy with A Tuscan Legacy!
Book 1 That's Amore (That's Love) by Marion Ueckermann
Book 2 Luna Rosa (Blushing Moon) by Elizabeth Maddrey
Book 3 Rapsodia (Rhapsody) by Alexa Verde
Book 4 TI Amo (I Love You) by Marion Ueckermann
Book 5 La Fiamma Sacra (The Sacred Flame) by Clare Revell
Book 6 Bella Notte (Beautiful Night) by Heather Gray
Book 7 Solo Tu (Only You) by Narelle Atkins
Book 8 Dolce Vita (Sweet Life) by Autumn Macarthur
Book 9 La Risposta (The Answer) by Autumn Macarthur
BONUS NEW NOVELLA! Book 10 Innamorata (Sweetheart) by Autumn Macarthur #ad