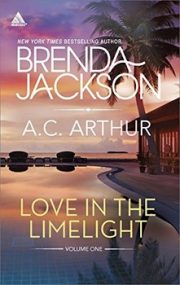 Love in the Limelight Volume One
by Brenda Jackson & A.C. Arthur
BARGAIN
Drop-dead gorgeous Ethan Chambers is Hollywood's most eligible bachelor. And he's just gotten an offer he can't refuse: a starring role on TV's newest hit drama. But the show's sultry makeup and wardrobe director has his pulse racing—and is making him think twice about staying single.
Getting the gig on Paging the Doctor has thrust Rachel Wellesley into the unwelcome glare of the spotlight. So when Rachel starts falling for the show's sinfully sexy star, she knows it's time to get her own heart checked. As the cameras roll and her creative visions come to life, will Rachel finally be ready for her close-up—with the man of her dreams?
---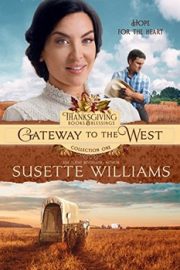 GATEWAY TO THE WEST
by Susette Williams
BARGAIN
Missouri, 1840: Coming to America was supposed to be a new adventure for Hayley Hunter and her husband, a chance for a fresh start in a new country. She never dreamed her journey would land her alone in a strange place with nobody she knew. She joins up with a wagon train in the hopes of meeting up with her brother and his family along the trail.
Malcom Wheeler knows the hardships and heartbreak families face, but there's usually safety in numbers, so he runs his own wagon train to try and help people determined to head out west. Taking the lady along goes against his better judgement; understanding her plight and being happy about it are two different things…
---
Just Three Dates
by David Burnett
BARGAIN
Since Karen broke up with her last boyfriend three years ago, she has not dated the same guy twice, and only one man in ten has received so much as a goodnight kiss as she turned him away. Mark still dreams of his almost-fiancée, and his date book has been empty since he threw her out a week before he'd planned to ask for her hand.
Karen's mother tells her she needs a husband. Mark's mother says he needs a wife. But left on their own, these opposites will never attract. As a result, their mothers become matchmakers. They entangle their children in a series of blind dates, suggesting that, in the absence of love, a marriage of convenience is a live option… But is it?
---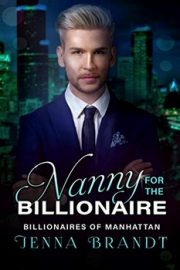 Nanny for the Billionaire
by Jenna Brandt
BARGAIN
Roger Boswell is a newly reformed playboy. It's hard enough to change his life for himself, but suddenly his world is turned upside down when his secret son is literally left on his doorstep. He has no idea how to take care of a four year old child so he turns to a friend of a friend for help.
Celeste Allen knows exactly who Roger Boswell is because he nearly destroyed her best friend's relationship. Yet, in the past few months, she's seen him change for the better, so when he asks for her help to find a nanny, she agrees. When no one fits the bill, Roger asks Celeste to fill in temporarily.
---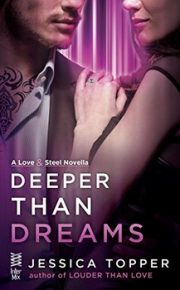 Deeper Than Dreams
by Jessica Topper
BARGAIN
Falling in love with rock star Adrian "Digger" Graves was a dream come true for former librarian Kat Lewis. But with a little help from friends and family–including Kat's adorable daughter, Abbey–Adrian has planned an evening and a proposal beyond her wildest dreams.
The night before, Kat witnessed the triumphant reunion of Adrian's rock band at Madison Square Garden. Tonight, he will escort her to the elegant, ultra-exclusive Library Lion's benefit. It seems like a fairytale, but even fairytales have a deeper, darker side. When old habits return to tempt her knight in shining heavy metal armor, will Kat's happily ever after come crashing back to reality?
---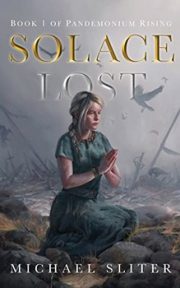 Solace Lost
by Michael Sliter
BARGAIN
"Sliter has crafted something that would definitely make the Lord and Queen of Grimdark proud." -Novel Notions
During times of war, no one goes unscathed. By Ultner, even in times of peace, few can escape suffering. Ardia is on the brink of civil war, though most citizens are woefully unaware of this fact. Fenrir de Trenton, a disgraced guardsman-turned-ineffective-criminal, is accustomed to taking orders. So much so that, despite the danger, he finds himself neck-deep in the politicking of his current superiors as well as the rulers of the country. The fact that Fenrir's father would rather see him dead doesn't help matters…
---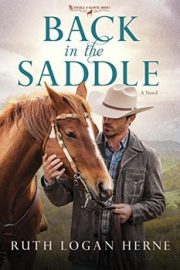 Back in the Saddle
by Ruth Logan Herne
BARGAIN
It's been a long time since Colt Stafford shrugged off his cowboy legacy for shiny Manhattan loafers and a promising career on Wall Street. But when stock market manipulations leave him financially strapped, the oldest son of legendary rancher Sam Stafford decides to return to the sprawling Double S ranch in Gray's Glen, Washington. He's broke, but not broken, and it's time to check in with his ailing father, and get his legs back under him by climbing into the saddle again.
He doesn't expect to come home to a stranger pointing a loaded gun at his chest— a tough yet beautiful woman that Sam hired as the house manager. Colt senses there's more to Angelina Morales than meets the eye and he's determined to find out what she's hiding…
---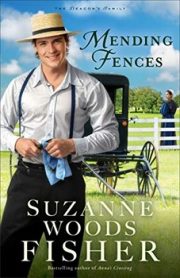 Mending Fences
by Suzanne Woods Fisher
BARGAIN
Luke Schrock is a new and improved man after a stint in rehab, though everyone in Stoney Ridge only remembers the old Luke. They might have forgiven him, but nobody trusts him.
Amos and Fern Lapp allow Luke to live at Windmill Farm under two conditions. First, Luke must make a sincere apology to each person he's hurt–a four-page, single-spaced list. Second, he must ask each victim of mischief to describe the damage he caused. Simple, Luke thinks. Offering apologies is easy. But discovering the lasting effects his careless actions have caused . . . that isn't so simple. It's gut-wrenching…