Thursday's Top Romantic eBooks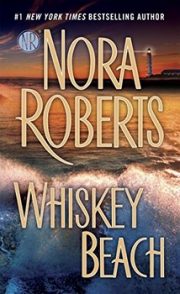 Whiskey Beach
by Nora Roberts
BARGAIN
For more than three hundred years, Bluff House has sat above Whiskey Beach, guarding its shore—and its secrets. But to Eli Landon, it's home. A Boston lawyer, Eli has weathered an intense year of public scrutiny and police investigations after being accused of—but never arrested for—the murder of his soon-to-be ex-wife.
He finds sanctuary at Bluff House, even though his beloved grandmother is in Boston recuperating from a nasty fall. Abra Walsh is always there, though. Whiskey Beach's resident housekeeper, yoga instructor, jewelry maker and massage therapist, Abra is a woman of many talents—including helping Eli take control of his life and clear his name…
---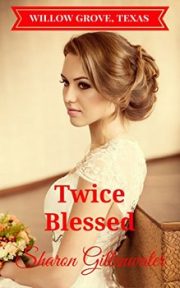 Twice Blessed
by Sharon Gillenwater
BARGAIN
Camille Dupree, genteel Southern lady and professional gambler, longs for a different kind of life. She doesn't believe it's possible to start over–until she arrives in Willow Grove and Mayor Ty McKinnon convinces her otherwise.
In the burgeoning West, a good heart is a valued commodity, and Camille develops a reciprocal appreciation for her neighbors…especially Ty, who sees more beauty and virtue in her than she's ever seen in herself. With his help, she becomes a respectable businesswoman. And begins to learn about the love of God and Jesus.
---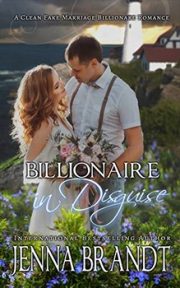 Billionaire in Disguise
by Jenna Brandt
BARGAIN
Ethan Winthrop has drifted through life, his billionaire trust fund making it easy for him to party his life away. But when his troublemaking girlfriend ends up causing a scandal unlike any Boston has ever seen, his father banishes him to an island of the coast of Maine to hide out while he cleans up the mess.
After the death of her parents, Nicole Hutton's goal has been to save the local Angel Island Lighthouse where both her grandparents and father lived. She hopes to keep it safe until one day she can be married there too, but when a sneaky developer tries to steal the property for a resort, Nicole has to find the money quickly. What she never expects was Ethan Winthrop to be the answer to her dilemma.
---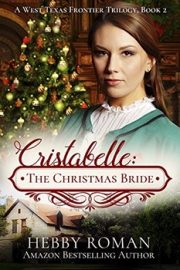 Cristabelle: The Christmas Bride
by Hebby Roman
BARGAIN
Cristabelle Shannon is struggling to support her ailing mother as a laundress at Fort Clark. Pious and serious, Crissy safeguards a family secret. If her secret gets out, she could lose her position, the only decent job she can find. Crissy dreams of a day when she can put her shameful secret behind—a place where no man can trouble her.
Sergeant David Donovan is a fun-loving prankster, who has made the United States cavalry his home. He joined the Army for adventure and to guard the frontier. His outlandish jokes have cost him his stripes, several times, only to be won back by his bravery. Davie is an Army lifer, committed to his free-wheeling ways and with no thought of settling down…
---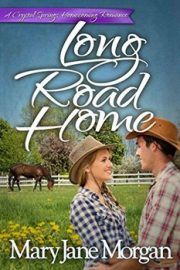 Long Road Home
by Mary Jane Morgan
BARGAIN
Megan Swearingen's life changes forever with the death of her father. Leaving college, she returns home to find her younger sister mute with shock, her mother too depressed to function, and their beloved Thoroughbred horse ranch on the verge of going under. She's barely arrived when she's forced to accept help from Brett Dawson—the man who once broke her heart—when a marauding mountain lion threatens one of the prized horses they depend on for survival.
Brett would rather be anywhere but the Swearingen ranch. Caught between his feelings for Megan and the powder keg of the ongoing feud between their families, he feels his only choice is to help Megan, regardless of the consequences. If it weren't for Brett's father, Megan's dad might still be alive, and she wouldn't be here now sacrificing her future to save her family's ranch.
---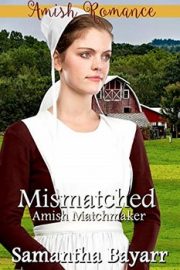 Mismatched: The Amish Matchmaker
by Samantha Bayarr
BARGAIN
Matchmaker Sadie Bieler has her hands full with Laney Bontrager and Seth Yoder. Not only do they have nothing in common, but they also have nothing nice to say about each other. When Sadie suggests they should pair up, not only does she get a lot of negative talk from both of them, but they both insist they are not the right fit to be matched.
Reluctantly, they agree to give the match a ten-day trial, both agreeing ONLY because they are determined to prove Sadie is wrong in her matchmaking skills where they are concerned. Can Sadie convince the two they are not mismatched, or will she have to admit she made a mistake?
---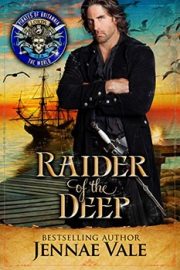 Raider of the Deep
by Jennae Vale
BARGAIN
Lizzette Wickham finds herself at the mercy of the notorious Spanish pirate, Pargo. Forced to believe his story that another pirate, Rourke Mackall, killed her father and stole Pargo's treasure, Lizzie must make a decision – save herself or to do Pargo's bidding and find his treasure in order to save her younger brother. If she chooses the latter, she must survive everything that makes her island home dangerous.
Rourke Mackall has returned to Manta Cay with the intent of visiting his old friend, Governor William Wickham. He is shocked to learn of his death at the hands of a nameless enemy…
---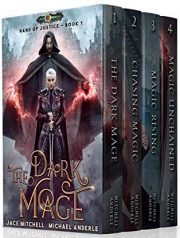 Hand of Justice Boxed Set
by Jace Mitchell & Michael Anderle
BARGAIN
She swore to protect her kingdom… And he swore to destroy it. Riley is lithe and fast, her tongue every bit as sharp as her sword. She's a new-age knight pledged to keep her King and countrymen safe. Riley's hearing rumors about a dark mage in the north. He's amassing a ruthless army and practicing twisted magic. His evil past intertwines with Riley's kingdom…and he's coming to claim it.
With the kingdom at stake, Riley embarks on a collision course with this mage… and with her own mortality. Will Riley's fighting prowess prove enough to vanquish the dark mage and his legion, or is her fate already sealed in his twisted magic? This Boxed Set included the first four books in the Hand Of Justice Series: The Dark Mage, Chasing Magic, Magic Rising, Magic Unchained.