Saturday's Top Romantic eBooks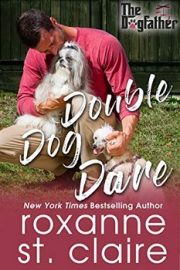 Double Dog Dare
by St. Claire, Roxanne
BARGAIN
The Dogfather has one more child to marry off…but Darcy Kilcannon has no interest in her father's matchmaking shenanigans. The youngest Kilcannon is not looking for a husband. Darcy is ready to launch her own business in town, move into her own apartment, and become her own woman.
But when she walks into the gorgeous brownstone that her father just "happened" to help her find, Darcy takes one look at the hot landlord and she knows the Dogfather has been up to his old tricks. Sure the landlord's a hunk and a half, but his "no pets" policy is a huge turnoff to a dog groomer who won't dream of living without her beloved Kookie…
---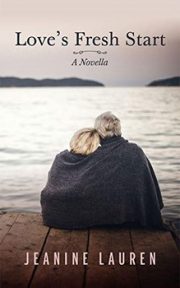 Love's Fresh Start
by Jeanine Lauren
BARGAIN
Alone since her husband died, with only the company of online friends and long-distance phone calls, Sylvia yearns to rediscover life's joys. Convinced exercise will help, she reluctantly ventures out to the local park. There in the shrubbery, she discovers Angel, a skinny feral cat that needs someone to care.
Jack has been blindsided. After a lifetime of working toward a comfortable retirement, he was hit with a double whammy. A heart attack forced him to stop work early and his wife left just as he was getting back on his feet. Now his life is empty and his future uncertain until he meets Sylvia in the park trying to befriend a cat. Can these two lonely souls find each other? Or are they destined to be alone?
---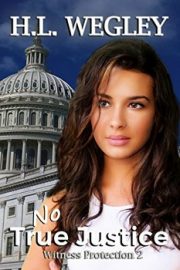 No True Justice
by H. L. Wegley
BARGAIN
They forced her into witness protection, not to protect her, but to shut her up. After testifying in a high-profile case, Gemma Saint, a young intern at an influential media outlet, is forced into WITSEC by corrupt DOJ officials to silence her. When Gemma's testimony at a retrial threatens their elaborate conspiracy to control the upcoming presidential election. Gemma learns from her WITSEC Inspector her identity was compromised and someone in the DOJ has sent a team to kill her.
After her Inspector is shot, Gemma sees only one chance to survive and resume her old life—expose the conspiracy, completely. She seeks help from Lex James, a young investigative journalist. Gemma offers him the biggest story of his career. But Lex was recently given custody of his deceased sister's four-year-old, twins, Josh and Caleb. Sparks fly when Lex and Gemma meet, and the boys see their mother in her. But can she endanger this fragile family?
---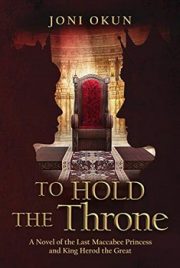 To Hold the Throne
by Joni Okun
BARGAIN
Historical figures and events meet page-turning fiction in Joni Okun's compelling debut novel. To Hold the Throne breathes life into the extraordinary story of King Herod the Great and Mariamne, the last Maccabee Princess, told in alternating points of view.
Fueled by shifting political tides in Rome, the Triumvir Marc Antony disrupts the longstanding Maccabee Dynasty of Judea when he crowns Mariamne's new husband, Herod the Great, as King, setting off a firestorm of power-grabbing, betrayal, and tragedy in the quest for the ultimate prize: the throne.
---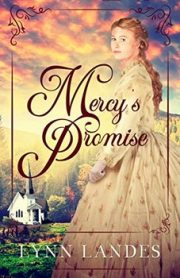 Mercy's Promise
by Lynn Landes
BARGAIN
Glenn Ward needs a miracle. His wife is dying and leaving behind twin newborn sons. He returns from the war a changed man. Guilt stains his soul, and anger is growing in his heart. Anika Coltrane needs a miracle of her own. After burying her husband and newborn daughter on the same day, she is in a desperate situation. How will she care for her six year old daughter?
An answered prayer brings two families together. Anika agrees to become a wet-nurse for the family. Delaney needs a safe place to grow up, away from sorrow and fear. Will they find shelter with the Ward family?
---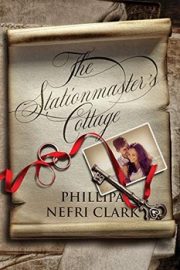 The Stationmaster's Cottage
by Phillipa Nefri Clark
BARGAIN
When her grandmother dies in a remote seaside town, Christie Ryan is stunned to inherit an old cottage from the woman who raised, and then turned her back on her. It makes no sense that wealthy Dorothy Ryan travelled so far to die alone.
On a break from her high-flying career, Christie visits the tiny town of River's End for the funeral. She finds old love letters and unworn wedding rings in the cottage attic and is drawn into a fifty-year-old mystery. Days turn into weeks as she lingers in the cottage to solve its secrets. What happened all that time ago to tear apart a young couple on the night of their engagement party? And what connects them to Dorothy?
---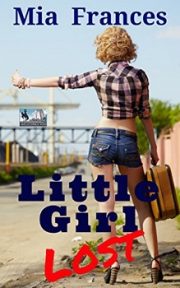 Little Girl Lost
by Mia Frances
BARGAIN
Sheriff Zac McHenry is fit to be tied. A new "working girl" just showed up at the local truck stop. He doesn't want "her kind" in town! He arrests her, but things aren't what they seem. She's no hooker…she's a librarian! Her name is Ali, and she's trying to track down a 13-year-old runaway. The girl disappeared from the truck stop a week ago and hasn't been heard from since.
Zac tries to send Ali packing, even checks her out of her motel room, but she refuses to leave until she finds the girl. With the rodeo in town and all the hotel and motel rooms in the area booked up, Ali finds herself temporarily homeless. With no place else to go, she moves in with the sheriff until a room becomes available…
---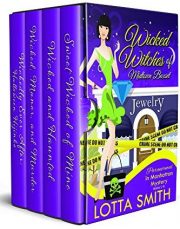 Wicked Witches of Midtown
by Lotta Smith
BARGAIN
Mystery, ghosts, and witches! Throw in a dash of sweet romance!
Four paranormal cozy mysteries in one bundle! Set in New York City, Mandy, Rick and Jackie the ghostly drag queen dig in the four murder mysteries! Perfect for fans of Janet Evanovich, Jana Deleon, Amanda M. Lee and Sophie Kinsella!
Each book in the series is a stand-alone story, but your enjoyment of each story will be increased if you read them all.