Sunday's Top Romantic eBooks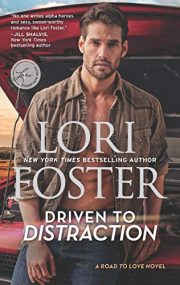 Driven to Distraction
by Lori Foster
BARGAIN
When desire gets this hot, you'd better buckle up… Mary Daniels doesn't let anything get in the way of her job acquiring rare artifacts for her wealthy boss. But this particular obstacle – huge, hard-muscled, unashamedly masculine – is impossible to ignore. Stuck in a cramped car with Brodie Crews for hours en route to their new assignment, Mary feels her carefully crafted persona – and her trademark self-control—is slipping, and she won't allow it.
Brodie can't imagine what secret in Mary's past has left her so buttoned-up, though he'd dearly love to find out. Maybe then she'd trust him enough to explore their explosive chemistry.
---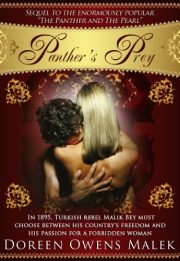 Panther's Prey
by Doreen Owens Malek
BARGAIN
He rode from out of the Turkish wilderness atop a magnificent charger. Dark and mysterious, Malik Bey swept Boston-bred Amelia Ryder into an exotic world of sultans and revolutionaries, magnificent palaces and desert camps.
Amy wanted to hate her virile abductor, to escape his heated glances forever. But with his suave manners and seductive charm, the hard-bodied rebel was not mere thief out to steal the proper young beauty's virtue. Amy grew ever closer to surrendering to unending bliss in Malik's fiery embrace.
---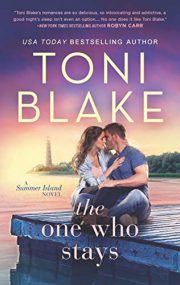 The One Who Stays
by Toni Blake
BARGAIN
Lose your heart to Summer Island, where summers are easy, winters are cozy and friends welcome you with open arms
Summer Island has always been home to Meg Sloan. She runs the Summerbrook Inn, like her grandmother did, and she loves the laid-back pace of life and the close-knit community the island offers. Meg also loves Zack Sheppard, but what she doesn't love is Zack's refusal to commit to an exclusive relationship. Seth Darden arrives on Summer Island in search of summer work, but also in search of something else – his past.
---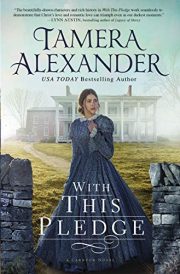 With this Pledge
by Tamera Alexander
BARGAIN
From the pages of history and the personal accounts of those who endured the Battle of Franklin…
Elizabeth "Lizzie" Clouston's quietly held principles oppose those of the Southern Cause–but when forty thousand soldiers converge on the fields of Franklin, Tennessee, the war demands an answer.
The Carnton home, where she is governess, is converted into a Confederate hospital, and Lizzie is called upon to assist the military doctor with surgeries that determine life or death.
---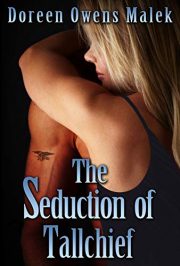 The Seduction of Tallchief
by Doreen Owens Malek
BARGAIN
THE SEDUCTION OF TALLCHIEF concerns the criminal pursuit of a multi-millionaire serial child molester, George Walden, who has used his wealth and connections to escape detection for decades. A reluctant, unconventional agent, Jefferson Tallchief, is sent into Walden's New Jersey mansion to assemble the case against him. The relationship that develops between Walden's bitter and reclusive daughter, Victoria, and the new hire acting as her driver forms the core of the story.
As they get to know one another, their prejudices (he's Native American and she's mostly WASP) dissipate and a bond slowly develops between them. While Tallchief works covertly to uncover evidence that will bring Walden to justice, he's increasingly conflicted about his deceptive role in Victoria's life…
---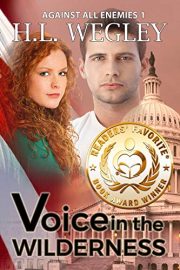 Voice in the Wilderness
by H. L. Wegley
BARGAIN
Susan May Warren, RITA and Christy Award-winning, best-selling novelist Reader's Favorite 2017 Gold Medal Winner
As catastrophes drive the US into martial law, all eyes are on America, waiting to see what emerges. KC Banning, network specialist, discovers President Hannan's tyrannical plans and is branded a terrorist, sending her fleeing the Beltway to find her childhood soulmate and protector, Brock Daniels. Brock, a writer and man of faith, gives CPR to a dying nation through his blog, which is read by military members still loyal to the Constitution…
---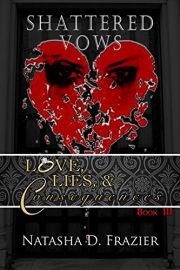 Shattered Vows: Love, Lies & Consequences
by Natasha D. Frazier
BARGAIN
Rico gambled with his marriage when he cheated on Chloe. Breaking his vows and risking everything for temporary pleasure, he lost his wife's respect and trust. Rico returns to God, searching for a quick fix to win Chloe's heart back, but his heart is the one that is changed.
Has Chloe given up on him? She has forgiven him before, but this is different. With the law and the Word of the Lord on her side, she finally gathers enough courage to walk away. But then tragedy strikes. Is it enough to make Chloe stay, or will she start a new chapter in her life?
---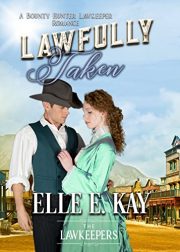 Lawfully Taken
by Elle E. Kay, The Lawkeepers
BARGAIN
A bounty hunter gets more than he bargained for.
Hired to capture the leaders of the Glenn-Ricketts gang, Nathaniel Hayes expects to encounter danger. He does not anticipate dealing with a fiery Pinkerton detective. But capturing Adeline McCarty leads to new possibilities and problems. She wants justice for her father's murder.
Nathaniel can help her but should he? Aiding Adeline risks his heart as well as their lives.