Tuesday's Top Romantic eBooks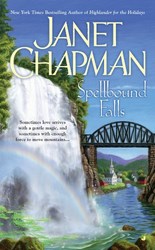 Spellbound Falls
by Janet Chapman
BARGAIN
Maximilian Oceanus arrives in Spellbound Falls just in time to save Olivia Baldwin from an overly aggressive suitor, only to find himself attracted to the beautiful, if rather aloof, widow. And although Mac has come to Inglenook to get a handle on fatherhood, his newly discovered six-year-old son has set his sights on finding his father a wife.
Olivia, however, is busy getting Inglenook ready for its new season, so she doesn't have time to deal with her growing attraction to the dangerously seductive Mac. #ad
---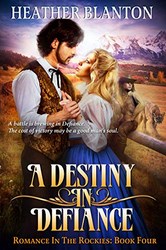 A Destiny in Defiance
by Heather Blanton
BARGAIN #ad
Brand New Release from Heather Blanton. Romances and rivalries are simmering in Defiance… Charles McIntyre's dark past is dead and buried. Now, he is a peaceable man striving to serve God, love his new wife, and bring respectable industries to the once lawless town of Defiance.
When his nemesis threatens everything Charles cares about, though, will he give the fight to the Lord, or unchain his demons? The choice is clear because no one is going to hurt his family. No one. Hope Clark comes to Defiance intent on proving a woman can be as fine a doctor as any man… #ad
---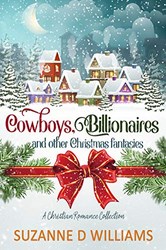 Cowboys, Billionaires, and other Christmas Fantasies
Romance Collection
by Suzanne D. Williams
BARGAIN
No matter the season, there's space in the heart for these 4 exclusive Christmas romances. A cowboy finds home again, a married couple rediscovers the meaning of the holiday, a reclusive billionaire opens his heart to love, and a pair of antagonistic co-workers learn what it means to be royalty.
This set includes a double cross-over, tying the Billionaire Boys Club series to the Best-Dressed series. Only available in this compilation!
Christmas In A Cowboy's Eyes; His & Hers Christmas
Christmas Cash (A Billionaire Romance Double Cross-Over); Welcome To Wonderland #ad
---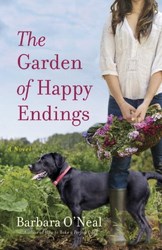 The Garden of Happy Endings
by Barbara O'Neal
BARGAIN
After tragedy shatters her small community in Seattle, the Reverend Elsa Montgomery has a crisis of faith. Returning to her hometown of Pueblo, Colorado, she seeks work in a local soup kitchen. Preparing nourishing meals for folks in need, she keeps her hands busy while her heart searches for understanding.
Meanwhile, her sister, Tamsin, as pretty and colorful as Elsa is unadorned and steadfast, finds her perfect life shattered when she learns that her financier husband is a criminal. Enduring shock and humiliation as her beautiful house and possessions are seized, the woman who had everything now has nothing but the clothes on her back. #ad
---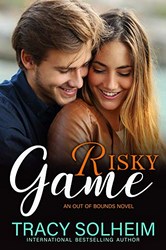 Risky Game
by Tracy Solheim
BARGAIN
Just when he was at the top of his game… She changed the rules. Baltimore Blaze tight-end Brody Janik is a natural born football star. At twenty-seven, his record-breaking athletic performance and his cover-boy good looks have turned him in to a household name. But Brody's hiding a major secret behind his charming, public persona: a health condition that may cut his career short.
PhD candidate Shannon 'Shay' Everett works multiple jobs to put herself through school—including an unpaid internship with the Blaze training department. #ad
---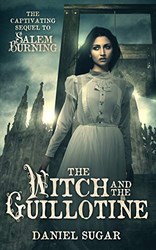 The Witch And The Guillotine
by Daniel Sugar
BARGAIN
After narrowly escaping the horrors of the Salem witch trials, Lilly Parris comes of age in 18th Century France, where she is pampered by Louis XVI and pursued by one of history's greatest fiends: Maximilien Robespierre, the monster who sent thousands of innocent men, women and children to the guillotine.
"I waited a long time for this and I love it!! Salem Burning was so good I couldn't wait for Daniels next book to come out and it does not disappoint! Lily is such a great character and her new adventures are wonderful and took on a whole different feel from the first book, but with still the same excitement and intensity.
This book shows that there is a wonderful series here that is perfect for tv, but I am thrilled to have the book first!" by Amazon Customer #ad
---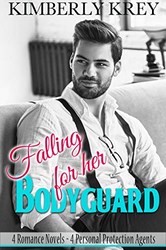 Falling For Her Bodyguard Collection
by Kimberly Krey
BARGAIN
Brand New Release from Kimberly Krey. Enjoy this diverse assortment of bodyguard romance novels in one unique set. 4 Full-length novels featuring 2 Navy Seals, 1 Bodyguard Specialist, and a Cowboy-turned-Witness Protection Agent.
Fresh Starts
The Fearless Warrior
The Honorable Warrior
Reese's Cowboy Kiss #ad
---
Smokey Falls Wolves Collection
by V. Vaughn
BARGAIN
This is a complete collection of the Smokey Falls Wolves series.
Inferno (formerly Stand By Your Wolf )
Heat (formerly Save a Horse, Ride a Werewolf)
Ignite (formerly Werewolf on Your Mind)
Scorched (formerly Sweet Summer Werewolf) #ad