Friday's Top Romantic eBooks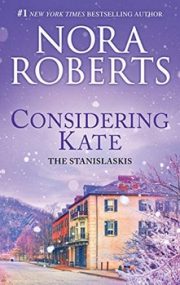 Considering Kate
by Nora Roberts
BARGAIN
Enjoy the final book in the reader-favorite Stanislaskis series from #1 New York Times bestselling author Nora Roberts.
Kate Stanislaski Kimball is done with glamour and fame; she has come home to make a fresh start. The only thing more perfect than the beautiful—dilapidated—building she's bought for her new dance school is Brody O'Connell, the frustrating and surprisingly fascinating contractor she's hired for the renovation.
As a single father, Brody is determined to resist Kate's effortless allure. But how long can a man hold out against his own heart?
---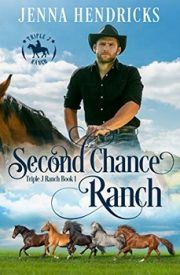 Second Chance Ranch
by Jenna Hendricks & J.L. Hendricks
BARGAIN
Montana veterinarian Elizabeth Manning is living the life of her dreams. Dating the hottest guy in town, healing animals, and helping the homeless makes her feel she's doing God's work. So when the boy who broke her heart returns after ten years, she refuses to dig up her buried feelings.
Logan Hayes kicks himself for leaving Elizabeth so abruptly. Forced home to run his sick father's store, his passion for his old flame has never been stronger. And he's desperate to show her how he has grown to win her back. Arguing with her boyfriend over her charitable activities, Elizabeth wonders if he's really the man God intended for her. If Logan wants to rekindle her devotion, he'll have to confess the painful truth behind his abandonment…
---
THE MIDWIFE'S CHILD
by Sarah Morgan
BARGAIN
A brilliant new consultant joining a busy Obs and Gynae unit should be good news – except Jed Matthews is the last person Brooke wants to see again.
Her shock at coming face to face with the man who ha brought her body and soul to life for one magical night six years ago pales beside the realization that Jed is eventually going to discover her secret.
Brooke had her reasons for disappearing, but will Jed ever understand them—especially when he meets her young son, Toby…?
---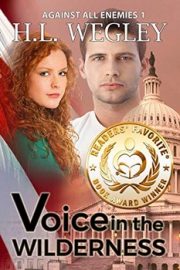 Voice in the Wilderness
by H. L. Wegley
BARGAIN
As catastrophes drive the US into martial law, all eyes are on America, waiting to see what emerges. KC Banning, network specialist, discovers President Hannan's tyrannical plans and is branded a terrorist, sending her fleeing the Beltway to find her childhood soulmate and protector, Brock Daniels.
Brock, a writer and man of faith, gives CPR to a dying nation through his blog, which is read by military members still loyal to the Constitution. But starting a grassroots insurgency while reconciling KC's and Brock's broken relationship proves difficult. When Hannan sends Special Forces to kill Brock and KC, starting a war in the Central Oregon desert, reconciliation, like staying alive, might be impossible.
---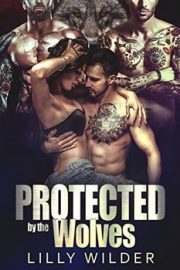 Protected by the Wolves
by Lilly Wilder
BARGAIN
My Life Hit Rock Bottom. I'd Always Been Afraid To Live Properly – After a bad break up, my friend Rachel convinced me to go to a bar and sing. She said that it wouldn't matter, that I'd never see anyone there again. It was true freedom. I could sing without consequences. It wasn't my usual place. It was filled with bikers. I was the odd one out.
But quickly things changed as I met Jack, Matt, and Buck. The three men wanted me in a way that nobody had ever wanted me before. My eyes were opened to a new world, a world of wolves…a world of desire. I was taken to their motorcycle club and they became my werewolves. I loved them and they protected me.
---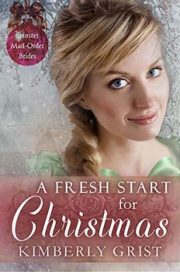 A Fresh Start for Christmas
by Kimberly Grist
BARGAIN
Memphis Rose Griffin loves teaching at Counting Stars Children's Home. The girls and staff are like family, and working here ties her to her mother, whose last wish was for Memphis to take her place as teacher. But something's missing. Now at the age of twenty-eight, her teenage dream of having her own family has all but faded.
Until her pastor and the orphanage founder come with a proposal that will change her life forever. Should she become their first candidate for their new matchmaking venture? Though grim, at least her future at the orphanage is familiar and certain. Can she risk an unknown future with a man she's never met?
---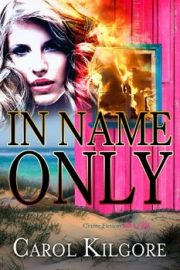 In Name Only
by Carol Kilgore
BARGAIN
No home. No family. No place to hide. For Summer Newcombe, that's only the beginning. The night Summer escapes from a burning Padre Island eatery and discovers the arsonist is stalking her, is the same night she meets Fire Captain Gabriel Duran. As much as she's attracted to Gabe, five years in the Federal Witness Security Program because of her father's testimony against a mob boss have taught her the importance of being alone and invisible.
No matter how much she yearns for a real home, Summer relinquished that option the night she killed the man who murdered her father. But Gabe breaks down her guard and places both of them in danger. Summer has vowed never to kill again, but she's frantic she'll cost Gabe his life unless she stops running and fights for the future she wants with the man she loves.
---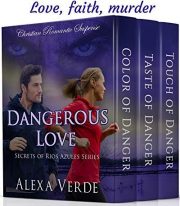 Dangerous Love
by Alexa Verde
BARGAIN
Sweet, wholesome books about faith, love, and murder! Three full-length novels in the Secrets of Rios Azules series, together for the first time in this collection! Each book features one of the childhood friends in the group nicknamed the Danger Girls, and each story is a complete romance. Color of Danger, Taste of Danger, and Touch of Danger were also published as solo books.
Welcome to Rios Azules, a small south Texas town, where rivers and emotions run deep, and the secrets are deadly.
Book 1: Color of Danger
Book 2: Taste of Danger
Book 3: Touch of Danger