Wednesday's Top Romantic eBooks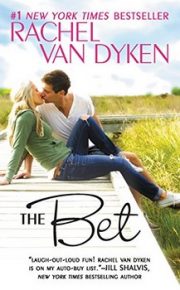 The Bet
by Rachel Van Dyken
BARGAIN
"I have a proposition for you." Kacey should have run the minute those words left Seattle millionaire Jake Titus's mouth. It's been years since Kacey's seen her childhood friend Jake, but the minute Jake mentions his ill grandmother, Kacey is ready to do anything for the sweet old woman. And if that means pretending they're engaged for her sake, so be it.
But Kacey wasn't counting on Jake's older brother Travis still being there. She calls him "Satan" for a reason: she's never forgotten the way he teased and taunted her. Yet when they meet again, Travis's gorgeous smile is a direct hit to her heart . . . and Kacey's more confused than ever. As the days pass, only one thing starts to become alarmingly clear — she never should have accepted Jake's deal. #ad
---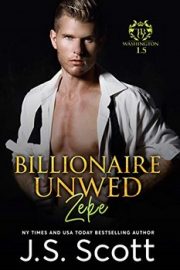 Billionaire Unwed~Zeke
by J. S. Scott
BARGAIN
Lia: I thought I had my life all worked out. My wedding had been meticulously planned. All I had to do was walk down the aisle and get married to the man I'd been engaged to for over a year. Pretty easy and uncomplicated, right? Unfortunately, all of my well laid plans go up in smoke when my fiancé leaves me at the church alone because he found a woman who was better suited for his snobby world of wealth and privilege.
After realizing what kind of man my intended groom really was, it was hard not to be more relieved that I'd dodged a bullet than I was heartbroken. Problem is, I still need to get married. All of my hopes and dreams are dependent on me tying the knot by my twenty-eighth birthday, and that date is closing in fast. Way too quickly for me to fall in love all over again… #ad
---
Dreaming of Love: Emily Braden
by Melissa Foster
BARGAIN
Emily Braden is a leader in architectural preservation, a pillar in her small hometown, and successful in everything she does–with the exception of finding true love. She's watched several of her brothers fall in love, and she needs this trip to Tuscany to get away from it all and to stop focusing on what she doesn't have.
Dae Bray doesn't do flings, and he never stays in one place for very long. As a demolitionist, he goes where jobs take him, and the more often he travels, the better. His trip to Tuscany is all work–until he meets smart and sexy Emily, who makes him reconsider his fear of settling down, his no-fling rule–and just about everything else he's ever believed about himself. #ad
---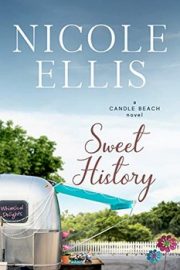 Sweet History
by Nicole Ellis
BARGAIN
Charlotte Gray grew up spoiled and privileged but gave it up to make her own way in the world. Years later, she's fought to get where she is, the owner of a gift shop located in a vintage Airstream trailer in scenic Candle Beach. Everything is perfect until she finds a smelly BBQ food truck parked next to her gift shop one afternoon. The minute she sees it, she knows it's got to go or her business will be down the tubes.
Luke Tisdale was raised by hard-working grandparents in nearby Haven Shores. After attending college on a scholarship and joining the tech world, his company went public and he became a multi-millionaire overnight. Unfortunately, now he doesn't know whether people like him or his money more… #ad
---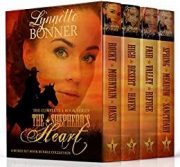 The Complete Shepherd's Heart Series
by Lynnette Bonner
BARGAIN
Step into a day when outlaws ran free, the land was wild, and guns blazed at the drop of a hat. This set includes all four books in The Shepherd's Heart series!
1. Rocky Mountain Oasis: Brooke Baker, sold as a mail-order bride, looks to her future with dread but firm resolve. If she survived Uncle Jackson, she can survive anyone. When Sky Jordan hears that his nefarious cousin has sent for a mail-order bride, he knows he has to prevent the marriage. No woman deserves to be left to that fate. Still, he's as surprised as anyone to find himself standing next to her before the minister… Also includes: 2. High Desert Haven, 3. Fair Valley Refuge, 4. Spring Meadow Sanctuary. CLICK above for the full descriptions! #ad
---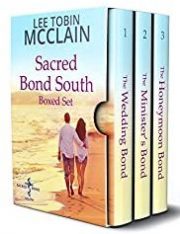 Sacred Bond South Boxed Set
by Lee Tobin McClain
BARGAIN
In a small town in Florida, there's always time for romance! Three Christian romances about what happens when you reconnect with your first love, by the USA Today bestselling author of thirty inspirational romance novels.
The Wedding Bond: When café owner Kaylee Kinney vows to marry within a year, she's picturing a nice, peaceful life with a nice, peaceful husband. Enter Phelan O'Donnell: army ranger, bad boy, and Kaylee's high school ex. What Kaylee doesn't know, when she enters into a "practice" relationship with Phelan, is that he's harboring a secret that could rip her family apart… Also includes: The Minister's Bond and The Honeymoon Bond. CLICK above to read the full descriptions! #ad
---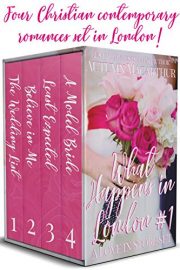 What Happens in London #1
by Autumn Macarthur
BARGAIN
Escape to Europe and fall in love, with almost 600 pages of uplifting, heartwarming, and inspirational reading! Four contemporary Christian romances set in London, Paris, and Edinburgh. First loves reunited, second-chance mid-life love, opposites attract, and enemies to love.
Books 1, 2, 3, and 4 in the Love in Store series of sweet and clean romances celebrating love and faith, brought together for the first time in this collection! Each stand-alone story follows a different couple connected to a grand old London department store through the trials and joys of falling in love, to their commitment to a happy-ever-after. #ad
---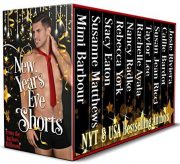 New Year's Eve Shorts
by Multiple Authors
BARGAIN
Ring in the new year with a fantastic collection of TEN short stories from the Author's Billboard.
NEW YEAR'S EVE SHORTS includes nine NEW romances guaranteed to lift your spirits with tales of second-chances, adventure, overcoming obstacles, celebrating the holidays, and finding love in unimaginable places. Whether our couples are in a barn, a bar, by the ocean, or in quaint Irish towns, join them as they celebrate love and New Year's Eve with this box set meant to be enjoyed year-round. CLICK above to read the full descriptions! #ad