Sunday's Top Romantic eBooks
Windfallen
by Jojo Moyes
BARGAIN
For Lottie Swift, Arcadia has always been magical. The breathtaking art deco house perched above the shoreline of the well-ordered village of Merham seems to stand still throughout the years. It has never changed, not really, but Lottie's fate and fortune have been inextricably linked with that of the beautiful house, and it will forever be fixed in her mind as a symbol of adventure, youth, and of loves lost and gained. Even as her life—and the house—fall into disrepair.
Years later another young woman comes to Merham. A designer hired to make over the now-empty Arcadia, Daisy Parsons seeks a new beginning, as Lottie once did. #ad
---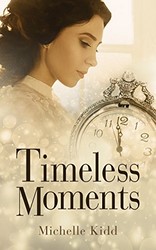 Timeless Moments
by Michelle Kidd
BARGAIN
What's hidden in the dark will be brought to light…
When Jewel Wiltshire marries, she vows to love, honor, and obey. Little does she know that her husband's secrets will push her faith far beyond anything she can imagine. For two years she remains a prisoner until a mysterious stranger appears offering friendship and hope.
Jack Vines has the Victorian home of his dreams–or so it seems until he discovers an intriguing beauty lurking in the shadows. Stunned, he finds they share the house but live a century apart. She is a prisoner of the past, shrouded in a world of dark mysteries. He holds the keys that will protect their future. #ad
---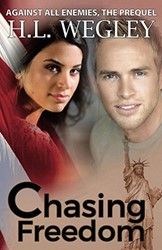 Chasing Freedom
by H. L. Wegley
BARGAIN
How far would you be willing to go if you were chasing freedom?
When Allie Santiago, international scholar at Oregon State University, and her family are captured and labor trafficked by the same drug cartel that drove her father from Mexico, she learns the cartel thugs plan to sell her to human traffickers. Allie escapes, running a marathon through the mountains of Northern California, and collapses in the arms of Jeff Jacobs, a disgraced Olympic decathlete who wants to regain both his honor and his former glory. When Jeff's actions engage the FBI and US Marshals to protect Allie and free her family from the cartel, a war breaks out in the mountains along the Oregon-California border. #ad
---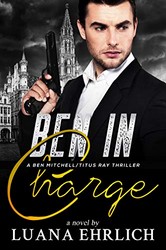 Ben in Charge
by Luana Ehrlich
BARGAIN
CIA operative Titus Ray knows nothing about his next assignment. Nothing except the person in charge of the operation will be Ben Mitchell.
Operation Concerned Citizen will be Ben's first assignment as the primary officer in charge of a mission. When Titus learns it's a simple mission with a clear objective but requires a complicated plan, he questions whether Ben will be able to handle it. After he discovers there are underlying circumstances, he questions whether he'll be able to let Ben handle it.
It's a simple mission… Ben, as head of an operational team that includes Titus, will escort Boris Khrasnoff, a Russian defector, and his daughter back to the U.S. It has a clear objective . . . #ad
---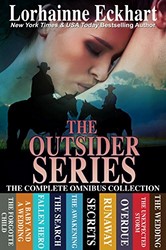 The Outsider Series
by Lorhainne Eckhart
BARGAIN
Fall in love with the Friessen men and the women they love in New York Times & USA Today Bestselling Author Lorhainne Eckhart's big family romance series.
In THE OUTSIDER SERIES: THE COMPLETE OMNIBUS COLLECTION, included are all the books and short stories of the hot and sexy Friessen men and the strong and vulnerable women they love. "Loved this book series! I just couldn't get enough of the characters, and ended up reading the whole set in a day." Reviewer – Jen #ad
---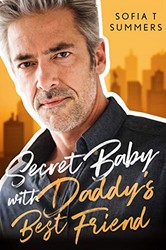 Secret Baby with Daddy's Best Friend
by Sofia T Summers
BARGAIN
I want to say that he was a terrible mistake. I should also admit that keeping a big secret from him was a bad idea. But life doesn't always work the way we want it to. Especially when you meet an older man who takes your breath away with just one glance…
He's not just my dad's best friend. He's also my idol… the man I've always looked up to. And the man I've always wanted on top of me. I can't help it. Can you blame me after that one night? He adored my curves… made me feel beautiful, smart, desired, and everything in between. Yes, all of that… and more. He also gave me the one thing I never thought I needed. My daughter. She reminds me of him. I couldn't escape him if I tried. Especially now that life has brought us together again… #ad
---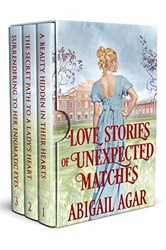 Love Stories of Unexpected Μatches
by Abigail Agar
BARGAIN
Three of my best-selling Regency romance stories! Delightful romances full of emotion, drama, action, plot twists, and of course, love!
Surrendering to Her Enigmatic Eyes
The Secret Path to a Lady's Heart
A Beauty Hidden in their Hearts
"This is a marvelous collection of three of Abigail Agar's best loved historical clean and sweet romances. Each book has some unusual event or stroke of fate that brought couples together that otherwise would likely have never crossed paths. There is plenty of mystery, danger, courage and of course romance." by Amazon Customer #ad
---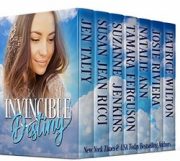 Invincible Destiny
by Multiple Authors
BARGAIN
Seven NY Times and USA Today Bestselling authors have come together to give you a collection of strong heroes and heroines that prove when you put your mind to something, your destiny is your future.
Whether you're just starting out or starting over, losing your love or finding a new one, a first chance, or a second…maybe even a third, destiny is in your hands. It's in your grasp. You find a way, you work hard, and you believe enough to make it happen. Included in this set: WHISKEY SMASH by Jen Talty, DON'T BRUISE THE BANANAS by Susan Jean Ricci, GIRLS IN THE CITY – ALISON by Suzanne Jenkins, IN TANDEM by Tamara Ferguson, GIVE ME A CHANCE by Natalie Ann, SEEKING RACHEL by Josie Riviera, FOR THE LOVE OF CANDY by Patrice Wilton! #ad