Tuesday's Top Romantic eBooks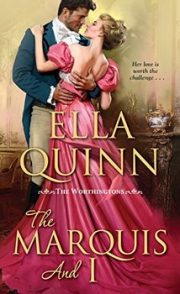 The Marquis and I
by Ella Quinn
BARGAIN
Lady Charlotte Carpenter's brother-in-law has put an infamous brothel owner out of business—yet it is Charlotte who suffers the consequences. Abducted by thugs and held at an inn, she is plotting her escape when she's suddenly rescued by a dashing gentleman. Only afterward does she realize she's seen him before—with two courtesans! Unwilling to tarry with such a man, Charlotte makes her second escape. But it is too late to repair her reputation…
A known gossip has spied Charlotte's movements, and his report is speeding through the rumor mill. Soon, everyone knows that Charlotte spent the night with Constantine, Marquis of Kenilworth. And everyone agrees the only answer is marriage, including Constantine himself, his overjoyed mother—and his mistress! But Charlotte's abductors aren't finished with her yet. Now Constantine will do anything to protect the spirited woman he loves and win her heart… #ad
---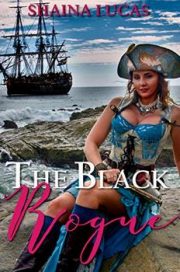 The Black Rogue
by Shaina Lucas
BARGAIN
Tryniti Brooke de Lauront was formidable, beautiful, and a member of the French royal family. She hid a dark secret that only her family knew: she was the fearsome pirate The Black Rogue who sailed the seven seas as the most dangerous swashbuckler of her era. When she gets a letter from her Uncle, King Louis XVI that she needs to return home immediately to marry and take over the French throne, her entire world is thrown into chaos.
Captain Sean Reilly is the owner of a merchant ship company in London and loves sailing the sea on his own terms. As he is sailing home for a summons by King Louis XVI he encounters the pirate The Black Rogue. Making it out alive, he realizes there's something familiar and striking about the feared pirate. #ad
---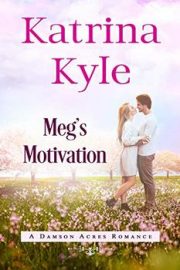 Meg's Motivation
by Katrina Kyle
BARGAIN
As the eldest sister, Meg Trudy feels the full weight of responsibility of running the family orchard after the death of her beloved father. To her utter dismay, she discovers the three-generation business isn't doing as well as she supposed, and to make matters worse, her father's safe contains secrets he has kept locked up for years. Unknowing of the financial ruin practically knocking at their door, the other Trudy sisters dare Meg to kiss a handsome stranger who just might be the key to turning their plum orchard around.
When an anonymous client asks travel blogger Morris to write an incriminating article – and pays ridiculous money to do so – Morris arrives at Damson Acres determined to perform his work with a hard heart. He hadn't, however, been counting on a woman like Meg. As the deadline looms, he must decide if his conscience will allow him to take the money and run or throw it all away and follow his heart. #ad
---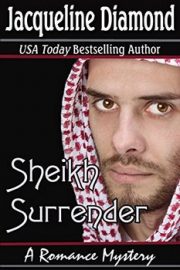 Sheikh Surrender
by Jacqueline Diamond
BARGAIN
A cyber-stalker has been harassing Jenny, enticing strangers to her remote cabin with the promise of seduction. Now an innocent man lies dead, and a new sheikh arrives to avenge his brother's murder. Instead of a temptress, Zahad finds a young woman determined to stand up to anyone who threatens her and her daughter. And Jenny meets a hardened warrior whose heart has never been touched.
Together, these two people from different worlds must risk their lives to battle devious and deadly enemies in her small town and in his native land. An edge-of-the-seat romantic mystery by the USA Today bestselling author of the Safe Harbor Medical Mysteries. #ad
---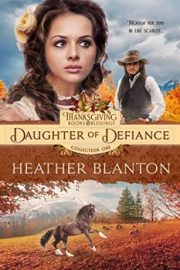 Daughter of Defiance
by Heather Blanton
BARGAIN
A broken heart. A wounded horse. A cowboy's gentle hand…
Hopeless and crushed by a lifetime of debauchery, infamous madam Victoria Patterson returns home to the family she hasn't seen in fifteen years. The proverbial prodigal child, she is desperate for peace whether it be through a second chance at life…or death.
A cowboy healing an abused horse may be the only one who can convince Victoria true peace is found in surrender to the Savior. But she may be out of time to choose, now that old enemies are hunting for her. #ad
---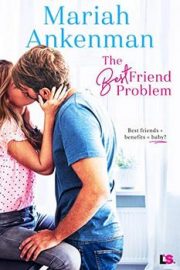 The Best Friend Problem
by Mariah Ankenman
BARGAIN
Prudence Carlson has been lucky in life. A fulfilling wedding-planning business run with her girlfriends in Colorado, plus the best guy friend ever in her firefighter bestie Finn. All that's missing from it is a baby. Luckily, it's the twenty-first century—Pru can take matters into her own hands. She doesn't need to find true love to create the future love of her life.
Except all this talk of babies and insemination and…Pru and Finn cross a line they never expected to. Sure, one night of passion won't change their close friendship. Until Pru goes in for a fertility check-up to find… she's already pregnant. As best friends, Pru and Finn have survived college, new jobs, and bad breakups, but can they survive crib shopping, birth classes, and late-night cravings? Especially when Finn has never considered himself even remotely Daddy material? #ad
---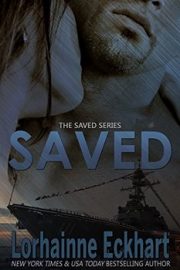 Saved
by Lorhainne Eckhart
BARGAIN
"INTENSE AND GRIPPING NOVEL SAVED has it all, mystery, intrigue, deception, romance, and the truly uncomfortable realities of human trafficking. It is a fantastic read."
"Growing up I had dreams that one day I'd fall in love, get married and start a family. Then one night I was taken. But I survived, I escaped and I was saved. Eric didn't see me as damaged. He didn't see my baby as a monster. He protected me, he kept me safe … he saved me." #ad
---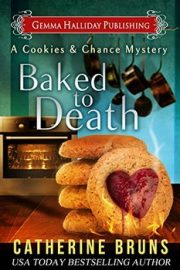 Baked to Death
by Catherine Bruns
BARGAIN
Baker turned reluctant amateur sleuth, Sally Muccio's, finally found the happiness that's eluded her for years. She's in love with a great guy, her bakery is thriving, and now she and her best friend Josie Sullivan are gearing up to appear on the popular reality baking show, Cookie Crusades. But a visit from Sal's greedy ex-husband Colin, who's looking to cash in on the bakery's dough, changes everything.
Within a few hours Sal's world—like the shop's original fortune cookies—is broken apart when Colin turns up dead, and her boyfriend's arrested for the crime. Now Sal's mixing it up with vengeful ex-inlaws, a suspicious new employee, slippery baking competitors, and a greasy mobster who'll stop at nothing to collect on Colin's unpaid debt. Can Sal prove her man is innocent in time? Or is she about to get baked herself? #ad