Wednesday's Top Romantic eBooks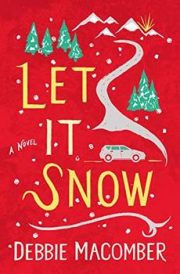 Let It Snow
by Debbie Macomber
BARGAIN
Shelly Griffin is looking forward to spending time with her beloved father in Seattle for the holidays. But unexpected complications arise when her plane from San Francisco is rerouted to Portland due to inclement weather. To make matters worse, Shelly finds herself stuck sharing the last available rental car with one of her fellow passengers: handsome, uptight businessman Slade Garner.
Sure, he's attractive, but Shelly isn't immediately convinced she likes Slade. She's not expecting the arduous journey to her father's house in a severe blizzard to change her mind, either. But the more time Shelly spends with Slade, the more she suspects that she may have received an unexpected gift this Christmas: love. #ad
---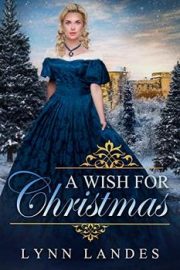 A Wish for Christmas
by Lynn Landes
BARGAIN
Mila Vunderberg is in desperate need of money to save her family home. Left caring for an ailing grandmother who spends her days searching for a "treasure" that doesn't exist, she has been forced to sell off pieces of her lineage to make ends meet. A blizzard blows in help in the form of a family looking for the perfect Christmas.
Garrett Donnelley's family surprises him with the gift of a perfect Christmas in New York. When the driver drops them off at a beautiful home on the Hudson River, they are welcomed like family. Enchanted by Mila, Garrett sees visions of a future with her, but his hostess has secrets that threaten everything he cherishes. #ad
---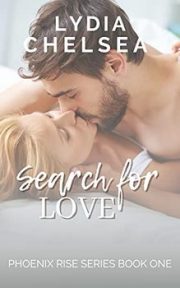 Search for Love
by Lydia Chelsea
BARGAIN
Professional photographer Melody Holm isn't about to be tied down. After losing her fiancé to a climbing accident and playing mother to her irresponsible sister, the last thing she wants is the baggage of a relationship. But when she agrees to play the victim in a search-and-rescue training exercise and steps on a crumbling ledge, it's only the timely arrival of a handsome rescuer that stops her fatal plunge.
Parker Myers is ready to dump his tiresome desk job. Much preferring to be in the field helping people, he scrambles into action when his company's SARS simulation goes south and saves the brave volunteer from certain death. And once he rushes her to the hospital, he just can't bear to leave her side. #ad
---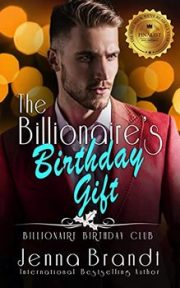 The Billionaire's Birthday Gift
by Jenna Brandt
BARGAIN
Nate Miller's music company just sold for a billion dollars, making him one of the youngest billionaires in the world. Despite getting the life he thought he always wanted, he can't help but be nostalgic about the girl who got away because of it. When he finds out she's getting engaged, he decides he needs to do something about it before it's too late.
Stella Buchanan is a triple threat. Though best known for her acting career, singing was always her true passion. The problem was the music industry revolved around Nate Miller, her ex-boyfriend and record producer. When he broke her heart, she promised to leave that world behind forever. At least, until she runs into Nate at the Billionaire Birthday Club during Christmas. #ad
---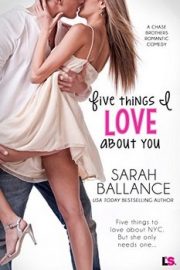 Five Things I Love About You
by Sarah Ballance
BARGAIN
California landscape artist Estelle Donovan hates big cities. Between the grime, the smell, all the drab concrete, and the suffocating summer heat, how can anyone breathe? Housesitting her brother's New York apartment, complete with broken elevator and smoking air conditioner, is her kind of hell. It's only for two weeks, though. What could possibly go wrong?
Dumping a jar of pickles on the hot girl at the grocery store wasn't Crosby Chase's finest hour, nor was getting bitten in the butt by the demonic cat on her fire escape. But he is going to change her mind about his beloved city, damn it. In fact, if they could just make it five minutes without falling into bed, he bets Estelle he can find five things she'll love about New York. #ad
---
The Indian and His Runaway Missionary
by Heather Blanton
BARGAIN
Widowed missionary Laurie Wilcox has promised to live the rest of her life serving God and feels called to minister to the Plains Indians. But when a handsome Cheyenne elder ignited a passion in her heart, she realized he had also taken her eyes off her calling. Panicked by the distraction, Laurie ran, slipping away to a different reservation. Surely, after all, serving the Lord was her path… not a trivial romance?
Henry Long Feather was fighting to build his life in a white man's world. When he met and fell in love with Laurie, he thought perhaps he'd taken at least one step in the right direction. She, unfortunately, was already in love with someone else–her God. #ad
---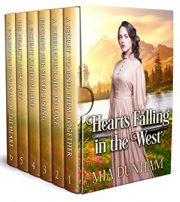 Hearts Falling in the West
by Mia Dunham, Aurora Hanson, Elaine Shields
BARGAIN
6 best-selling Historical Western novels! Delightful tales full of emotion, love, drama, action, plot twists and heart-melting romance!
This set includes: A Secret to Bind Them Together, A Rebellious Lady to Love, Finding Her Silver Lining, A Patient Kind of Love, His Heart's Lucky Bet, A Forbidden Fondness of The Heart
"Loved the stories. They captivated me and kept me wanting to read. The extended epilogue should be part of every story. It helps to complete them. Keep writing and I will keep reading…" by Amazon Customer #ad
---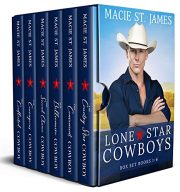 Lone Star Cowboys Series Complete Collection
by Macie St. James
BARGAIN
You'll get six full-length novels, each featuring a dreamy cowboy, feel-good clean romance, and a charming small-town setting in this contemporary western boxed set.
A mother's dying wish gives six battling cousins a chance at family, forgiveness, and love.
The Country Star Cowboy
The Convenient Cowboy
The Billionaire Cowboy
The Second Chance Cowboy
The Courageous Cowboy
The Conflicted Cowboy #ad