Monday's Top Romantic eBooks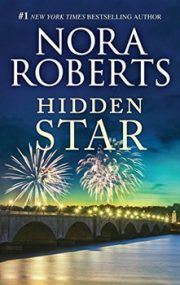 Hidden Star
by Nora Roberts
BARGAIN
Don't miss the first book in the fan-favorite Stars of Mithra trilogy from #1 New York Times bestselling author Nora Roberts!
Diamonds can be a girl's best friend…or her worst enemy. Bailey James can't remember a thing, including why she has a satchel full of cash and a diamond as big as a baby's fist. It's clear she's in big trouble, and Bailey desperately needs private investigator Cade Parris to help her live long enough to find out just what kind. The moment the coolheaded detective laid eyes on Bailey, she almost had him forgetting who he was. Surely she isn't a criminal—but how can he unravel this mystery if he keeps tripping over his heart?
---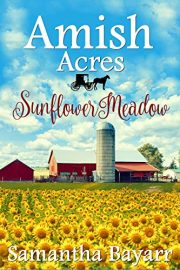 Amish Acres: Sunflower Meadow
by Samantha Bayarr
BARGAIN
Brand New Release from Samantha Bayarr's popular Amish Acres Series!
Cousin Beth ran off with Chad and married him; now she's in trouble, and only one person can help her.
About the Author: Samantha Bayarr became the first Independent Author of Amish Fiction when she published Little Wild Flower in paperback in 2005. Since then, she has written over 130 Christian Fiction Books. She is best known for her Jacob's Daughter series, which has sold more than One Million copies.
---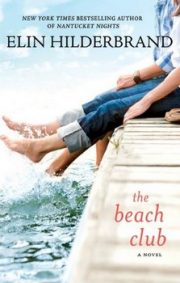 The Beach Club
by Elin Hilderbrand
BARGAIN
In The Beach Club, the juicy first novel by talented newcomer Elin Hilderbrand, a series of personal dramas are played out during one summer at a Nantucket Beach Club. It's about the love of summer, summer love, and the special feelings we all have for that special summer place–in this case, a hotel and an island.
Mack Petersen, manager of the hotel, has been working at The Beach Club for 12 summers. Only this summer is different. His boss, the owner of the hotel, Bill Elliot, shows up in the spring with a new set of demands. His girlfriend Maribel is pressing Mack to get married and Vance, the African-American bellman, who has hated Mack since the day Mack stole his job 12 years ago, threatens him in a deadly scene. Mack knows something's got to give.
---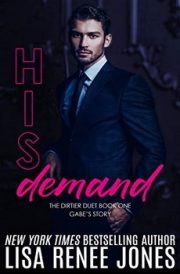 His Demand
by Lisa Renee Jones
BARGAIN
Gabe Maxwell is a powerhouse in the boardroom, a man with a dark past he's buried under success and power. He's not a white picket fence and forever kind of guy and he's definitely not into redheads. That is until one corners him, kisses him and thanks him for waking her up. Right before she walks away and leaves him. She's gone and he's obsessed.
Then she walks into his office and back into his life, and he has to have her. It doesn't matter that she's the kind of woman you marry. It doesn't matter that she's everything he avoids because she's everything he wants. Only Abbie isn't the good girl she seems. She has secrets and a past and soon, she'll pull Gabe into her bed, her life, and that spells more than obsession. It spells danger. ​
---
The First Time I Saw You
by Lorhainne Eckhart
BARGAIN
Like his parents Andy and Laura Friessen, Gabriel knows what it means to face an impossible situation. What he doesn't realize when he puts up an ad looking for a roommate he never expects to meet a down on her luck gorgeous single mom with a meddling family, a crazy ex-boyfriend, and enough chemistry between them to heat a county.
The only problem is she doesn't believe in happily ever after and sees falling in love as a mistake only fools make. But Gabriel can't stop thinking about her, wanting her, and is determined to show her the road to love isn't as dangerous as she believes.
---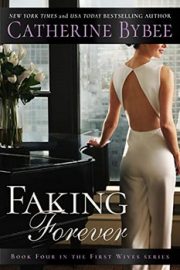 Faking Forever
by Catherine Bybee
BARGAIN
Shannon Wentworth's biological clock is ticking, and she isn't going to let her single status keep her from having a baby. When her wedding-photography business takes her to Mexico, she has every intention of finding a willing baby daddy to help her out. Until the bride goes AWOL, leaving Shannon to coddle the arrogant fiancé who has accused her of sabotaging his wedding.
Victor Brooks never could have imagined that he'd be on a honeymoon for one. Only here he is, taking a hard look at his life after the younger women he thought he loved walked out. The woman who volunteers to help him reflect is the last person he expects to be attracted to. Between the tequila, the sun, and one earth-shattering kiss, Victor finds Shannon a distraction too sexy to ignore. ​
---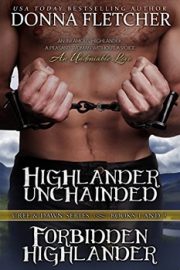 Highlander Unchained & Forbidden Highlander
by Donna Fletcher
BARGAIN
Highlander Unchained & Forbidden Highlander are now together in one new revised edition!
The infamous warrior Cree is paraded before the village Dowell and though shackled and wounded he walks with arrogant pride, meeting all the curious and fearful stares of the villagers with a fierceness that has them quickly turning their heads away, all but one woman. Dawn cannot keep her eyes off the captured warrior, though tales of his exploits suggests he's more devil than man. When his eyes meet hers, she wonders if the notorious tales are true for only the devil himself could be that sinfully handsome…
---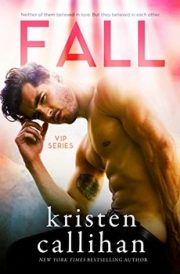 Fall
by Kristen Callihan
BARGAIN
The first time I met Jax Blackwood things went a little sideways. In my defense, I didn't know he was Jax Blackwood—who expects a legendary rock star to be shopping for groceries? More importantly, a blizzard was coming and he was about to grab the last carton of mint-chocolate chip.
Still, I might have walked away, but then he smugly dared me to try and take the coveted ice cream. So I kissed him. And distracted that mint-chip right out of his hands. Okay, it was a dirty move, but desperate times and all that. Besides, I never expected he'd be my new neighbor. An annoying neighbor who takes great pleasure in reminding me that I owe him ice cream but would happily accept more kisses as payment. An irresistible neighbor who keeps me up while playing guitar naked–spectacularly naked–in his living room.
---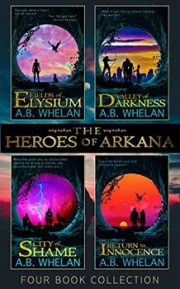 The Heroes of Arkana: The Compete Series
by A.B. Whelan
BARGAIN
From Amazon best-selling writer A.B. Whelan comes an epic adventure of courage, survival, devotion, and love portrayed through the eyes of star-crossed lovers who are more than meets the eye. It's a coming-of-age, sci-fi fantasy tale of superhumans, shapeshifters, and mighty warriors set in a detailed and richly imagined world.
Small town girl, Molly Bennett, moves to Los Angeles where she becomes an outsider while attending Beverly Hills High School. It seems life cannot be any more dreadful. Then one day after school, something magical happens. On a secluded hike in the Hollywood Hills, Molly chases her disobedient mutt and only friend into a hidden cavern. She stumbles upon a strange glimmering gateway that transports her to Arkana—a planet that is the cradle of an advanced human race.