Wednesday's Top Romantic eBooks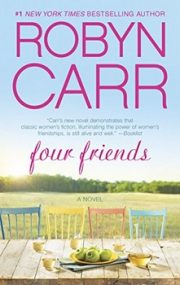 Four Friends
by Robyn Carr
BARGAIN
Gerri can't decide what's more devastating: learning her rock-solid marriage has big cracks, or the anger she feels as she tries to repair them. Always the anchor for friends and her children, she realizes it's time to look carefully at herself. The journey is more than revealing—it's transforming. Andy has come to believe that a lasting love is out of reach. When she finds herself attracted to a man without any of the qualities that usually appeal to her, she questions everything she thought she wanted in life.
Sonja's New Age pursuit of balance is shattered when her husband walks out. There's no herbal tonic or cleansing ritual that can restore her serenity—or her sanity. Miraculously, it's BJ, the newcomer to Mill Valley, who steps into their circle and changes everything. The woman with dark secrets opens up to her neighbors, and together they get back on track, stronger as individuals and unfaltering as friends.
---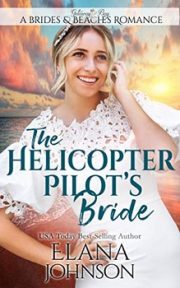 The Helicopter Pilot's Bride
by Elana Johnson & Bonnie R. Paulson
BARGAIN
Charlotte Madsen's whole world came crashing down six months ago with the words, "I met someone else." Her marriage of eleven years dissolved, and she left one island on the east coast for the island of Getaway Bay. She bought a run-down house overlooking the bay, knowing she'd need all her fixer-upper skills to get it in shape. Which is just fine. She's hoping as she overhauls the house, she'll get a life makeover too.
She was not expecting a tall, handsome man to be flat on his back under the kitchen sink when she arrives at the supposedly abandoned house. She wasn't expecting to get drenched when the non-plumber twists something the wrong way. And she certainly wasn't expecting her heart to be well enough to feel anything for anyone.
---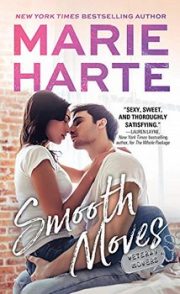 Smooth Moves
by Marie Harte
BARGAIN
Former Marine Cash Griffith is a brawny beacon for trouble, always finishing a fight that someone else starts. Working at his family's moving company, he does his best to keep a low profile, but he can't help but tangle with the newest employee, Jordan Fleming.
When Jordan joins Vets on the Go! she has her hands full with her new job and her rebellious teenage brother, not to mention going toe to toe with the obnoxious, arrogant, incredibly hot Marine at work. Soon their battles turn to camaraderie, and one kiss leads to a connection neither of them expected. But when dark secrets come to light, will their bond break…or strengthen into a happily-ever-after they desperately desire?
---
Edge of Night
by Lorhainne Eckhart
BARGAIN
Kate Sikes has finally met who she believes is Mr. Right, only Detective Walker Pruett isn't all about flowers and living happily ever after. In fact, after the greatest night of sex Kate's ever had, she hasn't seen Walker once.
However, she refuses to pine away for him or call him even though he invades her thoughts and her dreams—that is, until he shows up to investigate a case of robbery at the hotel where she works. Once again, Kate is left to fight Walker's charms, though she knows he can't commit and she's convinced he'll eventually break her heart.
---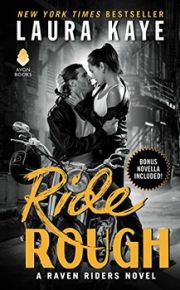 Ride Rough
by Laura Kaye
BARGAIN
Maverick Rylan won't apologize for who he is—the Raven Riders Motorcycle Club Vice-President, a sought-after custom bike builder, and a man dedicated to protecting those he loves. So when he learns that the only woman who has ever held his heart is in trouble, he'll move heaven and earth to save her.
Alexa Harmon thought she had it all—the security of a good job, a beautiful home, and a powerful, charming fiancé who offered the life she never had growing up. But when her dream quickly turns into a nightmare, Alexa realizes she's fallen for a façade she can't escape—until sexy, dangerous Maverick offers her a way out.
---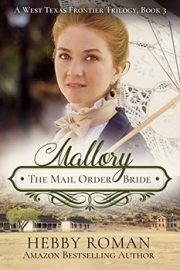 Mallory: The Mail Order Bride
by Hebby Roman
BARGAIN
Mallory Metcalf Reynolds was born to a life of wealth and privilege in the Old South. But the Civil War turns her life upside down—she loses both her mother and her childhood sweetheart. When her aunt tries to help by sponsoring her debutante season, Mallory makes a fateful mistake and compromises her reputation. Her father's death is the final blow, and she decides to start over, answering an ad for a mail order bride. But when she travels to the far west corner of Texas to meet her intended husband, she finds the vast unsettled country overwhelming and filled with danger.
Colonel William Gregor has made his reputation in the U. S. Cavalry fighting hostiles and border raiders. When he's assigned to a remote West Texas fort, his efforts to stop recurring Apache raids are thwarted by the vast and treacherous mountain terrain…
---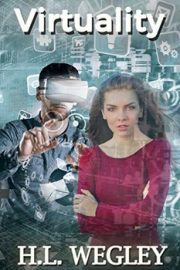 Virtuality
by H. L. Wegley
BARGAIN
What would you do with innovative technology that could make you the next Bill Gates but could unravel the fabric of civilized society?
"Don't sell Virtuality. Jess can help." His brother Paul's dying words to Vince van Gordon, a struggling author who can't write happy endings, inherits controlling interest in Virtuality, a growing high-tech company with a mysterious product the US Army classified Top Secret. Paul's last words force Vince to return home to Seattle to run Virtuality and face the girl he walked away from seven years ago. Can Vince, once again, endure being eclipsed by Paul's larger-than-life shadow, a shadow that cost him the woman he loves?
---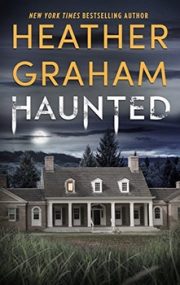 Haunted
by Heather Graham
BARGAIN
Matt Stone doesn't believe in ghosts. But there are those who are convinced his home, a historic Virginia estate that dates back to the Revolutionary War, is haunted. Pressured to get at the truth about some strange happenings at Melody House, he agrees to let Harrison Investigations explore the house.
But he isn't ready for beautiful, intriguing Darcy Tremayne. As a paranormal investigator, Darcy has learned to believe in the unbelievable. And she's given Matt fair warning: sometimes people don't like the skeletons she finds. She never dreamed that warning would apply to herself. For she's about to discover that Melody House holds much more than a simple mystery from the distant past. What it holds is a very real and lethal danger, one that will cast her into a struggle against the worlds of both the living and the dead.