Tuesday's Top Romantic eBooks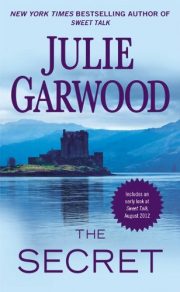 The Secret
by Julie Garwood
BARGAIN
Judith Hampton was as beautiful as she was proud and loyal. Her dear Scottish friend from childhood was about to give birth, and Judith had promised to be at her side. But there was another, private reason for the journey from her bleak English home to the Highlands: to meet the father she had never known, the Laird Maclean. Nothing prepared her, however, for the sight of the Scottish barbarian who was to escort her into his land…Iain Maitland, Laird of his clan, a man more powerfully compelling than any she had ever encountered.
In a spirited clash of wills and customs, Judith reveled in the melting bliss of Iain's searching kisses, his passionate caresses…
---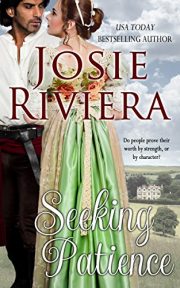 Seeking Patience
by Josie Riviera
BARGAIN
Do people prove their worth by strength, or by character?
Half-Romany, half-English lord, he lives a perilous Gypsy life … until a sweet English rose saves his life, and perhaps his soul. Widowed by a cruel husband, she's given up all hope of love. Brought together in peril, they dare to reach for a brighter future together.
Luca Boldor, Romany leader, lives a nomad's life in Regency England with his Gypsy caravan. Believing his noble father abandoned him at birth, he refuses to acknowledge his English blood, or live a settled life.
---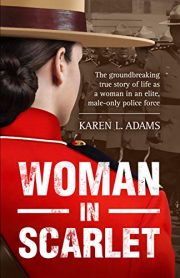 Woman In Scarlet
by Karen L. Adams
BARGAIN
Karen Adams' dream became possible the day the RCMP finally included women in what was then, an unashamed boy's club. When Karen joined the very first group of female RCMP recruits at age 22, she never anticipated the indelible mark this would leave on the landscape of Canada's iconic police force and the women who came after her. Karen, least of all.
Fueled by equal measures of naiveté and a relentless pursuit of excellence to win the respect of her fellow officers, Karen found her passion in life despite a hostile work environment, both inside and outside the RCMP.
---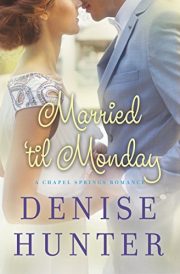 Married 'til Monday
by Denise Hunter
BARGAIN
Ryan McKinley has tried to move on from his ex-wife, Abby. He's sulked, he's gotten angry, and ultimately he bought her dream house. Big mistake. Living alone in the massive two-story has only made him miss her more. When her parents call him out of the blue about their anniversary party in Summer Harbor, Maine, Ryan believes God has dropped a golden opportunity straight in his lap.
Abby McKinley never exactly told her parents about the divorce. A strained relationship with her dad has culminated in a distant relationship with her parents, but she's finally succumbed to her mom's pressure to make the drive for their 35th-anniversary party.
KINDLE NOOK
---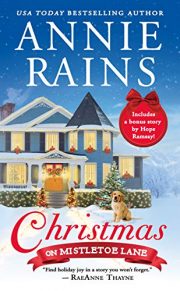 Christmas on Mistletoe Lane
by Annie Rains
BARGAIN
Christmas is coming to the North Carolina mountains, and the air is fresh and crisp and filled with promise. After the devastating loss of her job in the big city, the small town of Sweetwater Springs feels like heaven to Kaitlyn Russo. She's inherited her grandparents' charming (if a little rundown) bed and breakfast, and it's just the new lease on life she needs. Only "heaven" comes with a catch – and a handsome and completely infuriating one at that.
After what he hopes will be a quick trip, Mitch Hargrove wants nothing more than to put his hometown in the rearview mirror…
---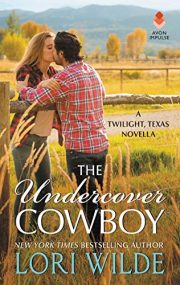 The Undercover Cowboy
by Lori Wilde
BARGAIN
Allie Grainger appreciated eye candy as much as the next gal, but she never expected to be rescued by it! On her way to a job interview, she was nearly trampled by a small herd of Texas Longhorns during Twilight's Wild West Cattle Drive. Luckily for her, a shirtless cowboy actually swept her off her feet and onto the sidewalk. Perhaps she should walk and text more often.
But Kyle Richmond was no "mere" cowboy. Sent by the FBI to uncover an art theft ring, he was in Twilight, getting leads on a series of robberies that went from one end of the country to the other.
---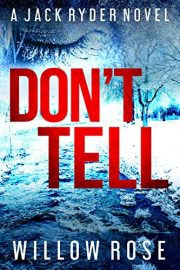 DON'T TELL
by Willow Rose
BARGAIN
This novel is based on an actual unsolved murder case.
One close-knit family. Too many secrets.  When detective Jack Ryder is going skiing with his family in the mountains of North Carolina, he hopes for a week of fun in the snow with the ones he loves. But then the body of a teenage boy turns up in the cold waters of the creek behind the cabin they have rented.
Don't tell or you might be next.  The find shocks the rural community of Maggie Valley and rattles local law enforcement. What happened to the boy is more than strange.
---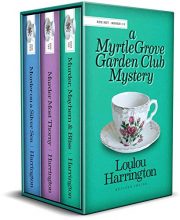 Myrtle Grove Garden Club Box Set
by Loulou Harrington
BARGAIN
Welcome to Myrtle Grove, a small town nestled in the lake country of Oklahoma, where life revolves around friendship, family and Sunday dinner, and no one seems to have noticed the recent rise in the local murder rate. The founding members of the Myrtle Grove Garden Club are Jesse Camden and her mother, Sophia, who are co-owners of the Gilded Lily Tea Room and Coffee House, along with Vivian Windsor, who is Myrtle Grove's resident oil heiress and a lifelong friend of the Camden ladies.
Bonus: Recipes included in each book.