Thursday's Top Romantic eBooks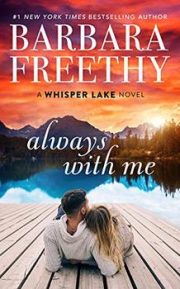 Always With Me
by Barbara Freethy
BARGAIN
After her third broken engagement, Gianna Campbell comes home to help with the family business and to heal her heart, only to realize that she has become the town joke—dubbed the runaway fiancée. If that wasn't bad enough, who should show up in town but her former crush Zach Barrington, a man who has other reasons to hate her.
Zach returns to Whisper Lake not only for a job opportunity but also for a chance at personal redemption. The last person he wants to see is Gianna, who once got him kicked out of the only place that made him feel whole. But when an accident sends her into the lake, their first face-to-face meeting in years leaves them both breathless. And suddenly the past feels a lot closer… #ad
---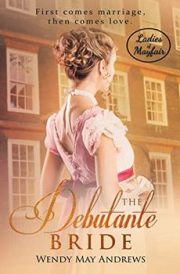 The Debutante Bride
by Wendy May Andrews
BARGAIN
Miss Elizabeth Dunseith grew up in genteel poverty, happy despite her abusive father and weak mother. The marriage her father has arranged for her seems shady, but despite her fears for her future, Beth is relieved to get away from home with her handsome, new husband.
Justin Fulton, Earl of Westfield, is puzzled by the contradictory behavior of his purchased bride. One moment she is haughty and cool, the next she is warm and endearing. Their relationship is just starting to develop when Justin's meddling sister throws them off course and an old friend of Beth's complicates matters further. Can their differences get sorted before it's too late to claim their happily ever after? #ad
---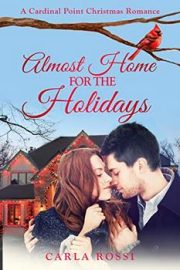 Almost Home for the Holidays
by Carla Rossi
BARGAIN
The perfect road trip: 2 strangers, 1 truck, and 1400 miles to fall in love.
Detective Justin Hatcher and Cameron McAlister are in a hurry to leave North Carolina—for totally different reasons. He wants to confront his family in Cardinal Point, Texas about a five-year-old betrayal. She wants to escape the remnants of a failed marriage. Thrown together as unlikely and unexpected travel partners, their trip is filled with both dramatic and humorous situations along the road. But, with God's constant hand in their journey, Justin and Cameron may just discover that… Yes, you can go home again…especially at Christmastime. #ad
---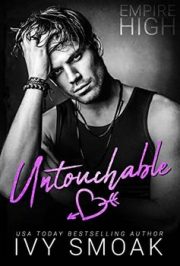 Untouchable
by Ivy Smoak
BARGAIN
Everyone knows Matthew Caldwell. Charming. Gorgeous. Wealthy. And way out of my league.
So when he invites me into the lifestyle of the rich and famous? I agree in a heartbeat. But behind all the glitz and glam? Secrets. Lies. Betrayal. All hidden behind a perfect smile and a tailored jacket.
I should have known better than to pretend to belong in his world… #ad
---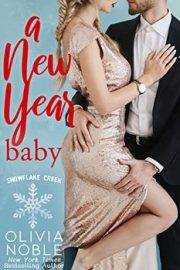 A New Year Baby
by Olivia Noble
BARGAIN
I found out I was pregnant on New Year's Day… but Jack was already gone.
He left Snowflake Creek to work for Doctors Without Borders in Africa. I never heard from him again. Years have passed, and little Luna is the joy of my world. I lead a simple life as a single mom, running my bakery. My delicious creations are loved by the whole town, and the Frosts welcome me and my daughter as family.
But when Jack returns, it turns my whole world upside down. My peaceful existence is shattered, and the sight of him awakens feelings I haven't had in years. I bake when I'm stressed. Would anyone like a cake? #ad
---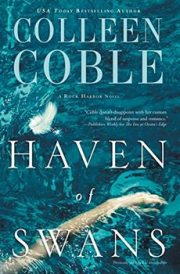 Haven of Swans
by Colleen Coble
BARGAIN
A beautiful woman stands by the side of the road, barefoot and bleeding, a child in her arms. Someone just tried to kill her, but she wouldn't recognize him if she saw his face. She doesn't even remember her own name. A suburban cop surveys a kitchen in disarray—a woman and child missing, a chilling note. This crime scene is unlike any he has ever seen.
The man who calls himself Gideon waits and plans. He sees himself as a destroyer of evil, one who rids the world of abominations. He has already killed five. He will kill again. And somewhere in the wilderness, in a secret geocache near where the wild swans gather, lies the unspeakable clue that links them all together. #ad
---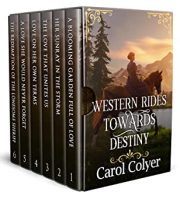 Western Rides Towards Destiny
by Carol Colyer
BARGAIN
Six of my best-selling Historical Western Romance stories! Delightful tales full of emotion, love, drama, action, plot twists, and of course, heart-melting romance!
This set includes: A Blooming Garden Full of Love, Her Sunray in the Storm, The Love that Unites Us, Love on Her Own Terms, A Love She Would Never Forget, The Redemption of the Lonesome Sheriff
If you love clean Western romances that feature strong women of the era and determined, yet charming, male protagonists, then you are going to love this collection! #ad
---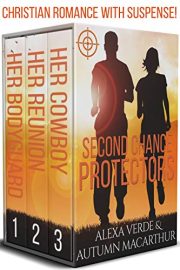 Second Chance Protectors
by Alexa Verde & Autumn Macarthur
BARGAIN
They'll risk their lives to protect a woman in danger. But given a second chance at love, will they risk their wounded hearts?
Book 1: Brett, Her Bodyguard: A brother missing, two children in jeopardy…
Book 2: Colt, Her Reunion: His ex-wife is back. And she's the target of a serial killer…
Book 3: David, Her Cowboy: A cowboy, a celebrity journalist, and a baby in danger…
"I've enjoyed reading the three books, loved that it's Christian book, nicely written with suspense and faith thrown in the mix. Will recommend." by Amazon Customer #ad